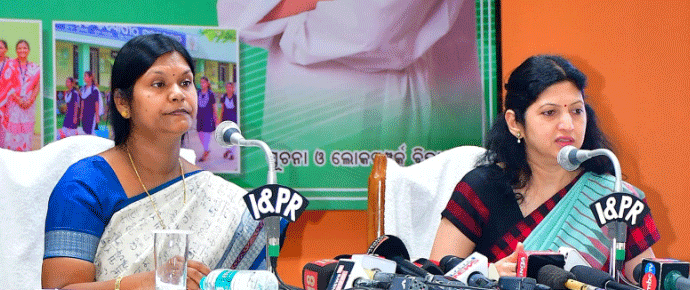 Bhubaneswar: The cargo handling capacity of ports in Odisha has been increased by eight times from 19.9 MMTPA in the financial year 2000-01 to 160 MMTPA by the end of financial year 2022-23.
This was informed by Commerce and Transport Minister Tukuni Sahu here on Wednesday. Chief Minister Naveen Patnaik today reviews the performance of the Department. Principal Secretary Usha Padhee was present in the Media Briefing.
In 2004, the Odisha Port Policy was notified identifying 14 prospective locations as non-major ports. Odisha Port Policy 2022 was launched during the Make in Odisha Conclave 2022, including the areas such as development of captive jetties, non-major ports, and non-nationalised inland waterways, the Minister said.
Shrimati Sahu said 55 new bus stands have been built at block-levels under Phase-I of the scheme while 70 new locations have been identified for Phase-II.
Online service delivery platforms for RTOs have been strengthened to provide citizens with seamless experience. To reduce the waiting time for citizens visiting RTOs, Smart Queue Management System has been implemented across the State, she said.
Odisha Maritime Board was constituted in 2022 to oversees the development of non-major ports and non-nationalized waterways and holistic maritime development, including cruise shipping, marine tourism, coastal economic zone, ship building and repair facilities and seaplanes. The Department has signed an MOU with JSW for developing a captive jetty at Jatadhari Muhan.
Under the 5T Initiative, as many as 31 out of 32 services notified by the C&T Department under Odisha Right to Public Services (ORTPS) Act are being delivered online. The achievement was attained by 2022, the Minister said.
Further, steps are being taken to make the services visit-less for the citizens. Most of these services are related to Driving License (DL) and Registration Certificate (RC). She claimed that Odisha was one of the leading states in 2006 to implement VAHAN (application software for Vehicle related services) and SARATHI (application software for Driver related services) with the introduction of chip-based Smart Cards for DL & RC.
However, as a 5T measure, the state government took proactive action and became the first State in the country to stop the practice of issuing DL & RC to applicants rather than making the process completely paperless and hassle free.
In September 2019, the Chief Minister had directed to make the Regional Transport Offices (RTO) broker-free. The same was achieved and the RTO offices were installed with information kiosks and Smart Queue Management System (SQMS) which help save time for the visitors by allowing them to get their queries addressed through the kiosks and services available through the SQMS.
Odisha had only one airport namely Biju Patnaik Airport from 1962 which got a level movement and became an International Airport in 2013. Odisha has multiple airstrips spread across the State.
As a proactive measure, the state government came forward to revive the airstrips with an objective to enhance regional and intra-state air connectivity and use the properties for professional skilling of Odia youth, she said.
Till 2015, Odisha had 7 districts (Boudh, Deogarh, Kandhamal, Kendrapara, Malkangiri, Nayagarh & Nabarangpur) which were unconnected by rail network. The state government has set a high priority area to get railway connectivity to all districts and came forward to contribute for early completion of various ongoing but lagging projects to bring about rail connectivity to the unconnected districts.
As of now, rail connectivity to two such districts namely Kendrapara and Nayagarh has been established. It is envisaged that with timely completion of the on-going projects, all the districts will be covered with the rail network of the country.