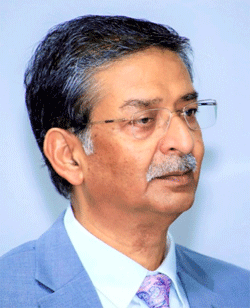 New Delhi: Bharat Lal, Director General, National Centre for Good Governance addressing the officers attending Capacity Building Program, he stressed on providing effective public services. He elaborated on the role of civil servants to create an enabling environment, where every citizen is treated equally and has access to quality public services. He also gave examples of good governance models that have helped provide seamless services to citizens such as drinking water, electricity, access to clean cooking gas connections and speedy internet connections among other things.

He highlighted the Prime Minister's emphasis on 'no one is left out'. To bring in innovations and new paradigms in good governance, utilizing technology and bringing in innovations is crucial, said the DG. He urged the participants to utilize the learning from this programme and prepare their own action plan, which they may like to implement in their areas of work in respective countries and states.
In this 2-weeks programmes for the civil servants of Bangladesh, Maldives and Arunachal Pradesh, civil servants will interact with experts on diverse topics, viz. changing paradigm of governance, vision of India @ 2047 and role of civil servants, decentralised municipal solid waste management, role of government recruitment agency to strengthen governance, health care services in remote areas, ethical perspectives in governance, disaster management, overview of rural development in India, approach to SDGs by 2030, health governance in India, climate change and its impact on biodiversity – policies and global practices, anti-corruption practices, LiFE, circular economy, etc. among other important areas.
The National Centre for Good Governance was set up in 2014 by the Government of India as an apex-level institution in the country with a mandate to work on good governance, policy reforms, training and capacity building of civil servants of India as well as of other developing countries. It also works as a think tank of the government. In partnership with the Ministry of External Affairs, NCGG has imparted training to civil servants of 15 countries, so far, viz. Bangladesh, Kenya, Tanzania, Tunisia, Seychelles, Gambia, Maldives, Sri Lanka, Afghanistan, Laos, Vietnam, Bhutan, Myanmar and Cambodia. Known for content and delivery, the capacity building programme is sought after and NCGG is expanding its capacity to accommodate higher number of civil servants from various countries.