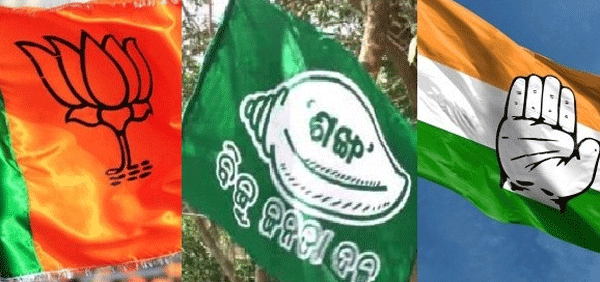 Padampur: On the last day of filing of nomination papers, candidates of all three principal political parties in the State, Governing BJD and Opposition BJP and Congress have filed their papers for the Padampur by-election.  
BJD candidate Barsha Singh Bariha, BJP's Pradip Purohit and Congress nominee Satyabhusan Sahu today filed their nomination papers for the by-election. The candidates filed their nomination papers at the Sub-Collector's office here.
While BJP and Congress nominees have visited the Returning Officer's office in big rallies, Governing BJD has decided to stay away from such show in support of farmers' who are agitating demanding input subsidy and crop insurance claims.
Senior BJP leaders Suresh Pujari, KV Singhdeo, Jayanarayan Mishra and Samir Mohanty Congress leaders including State President Sarat Pattanayak, CLP leader Narasingha Mishra and MLA Santosh Singh Saluja and Prasanna Acharya and Snehangini Chhuria have remained presence with their party candidates during filing of the papers.  
"I will fulfil the unrealised dreams of my father," said BJD candidate Barsha.
"I will fight the election with local issues like delay in release of claims under PMFBY, input subsidy, separate district for Padampur, irrigation, etc. Will reach the voters with these issues and seek their blessings. After being elected, will put forth these demands before the State Government," Mr.Purohit said.  
Congress candidate Mr.Sahu said he will raise all the problems the people of Padampur area are facing now. "Whatever work has been done in the area during my regime as an MLA, has not been done during any other MLA's tenure," claims he.   
As per schedule, the scrutiny of nominations will be held on November 18 and the last date for withdrawal of candidature is November 21.
The voting will be conducted from 7 am to 4 pm on December 5 and the counting of votes and declaration of results will be conducted on December 10.
Worth mentioning, the by-election was necessitated following the death of sitting BJD MLA Bijaya Ranjan Singh Bariha on October 3.