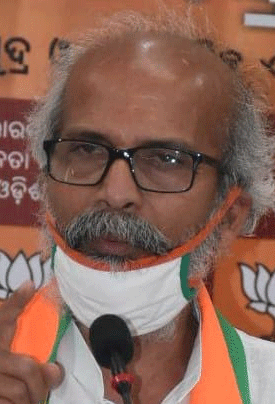 Bhubaneswar: Union MSME Minister of State Pratap Sarangi Sunday asserted that the Budget proposals for 2021-22 as presented in the Parliament by Union Finance Minister Nirmala Sitharaman is a reiteration of the determination of the Narendra Modi government from the ruins of Coronavirus scare across the globe.
Addressing a press conference here, the Union Minister said that the Budget is also a reflection of the aspirations of 130 people in the country.
Mr.Sarangi said the Budget is based on six pillars to revive economy that suffered a severe jolt due to the pandemic that gripped the entire globe.
Those pillars were health and welfare, investment and infrastructure, inclusive development, appropriate utilization of human resource development, research & development and maximum governance, he said.
"It is like a pitcher of nectar", the Union Minister said hailing the Budget.
He said the Budget has emphasized on development of dairy, animal resource development, fishery, Covid vaccine, railways and highways among a host of other development activities.
"A whooping Rs 15,700 crore has been earmarked for the micro, small and medium enterprises that will spur development," he asserted.
Further a provision of Rs 2,23,846 crore has been made in the Budget for the health care sector which is noteworthy, he said adding, "Covid vaccination will be done on every person in the country for which the government has earmarked Rs 35,000 crore."
At Rs 2, 23, 846 crore, the allocation for health and welfare sector is 137 per cent more over the allocation in 2020-21 financial year, he said.
The Union Minister said that the Government has made provision of Rs 1,10,055 crore for the railways and Rs 3.3 lakh crore for 13,000 kilometer new roads across the country.
"Odisha has been allocated Rs 6,995.58 crore for development of railway infrastructure," Sarangi said.   
 The Union Minster said the Budget proposal is not just a statement of account but promise for rejuvenation of nation.
 "The Budget proposals will instill faith in individuals, investors, industry and infrastructure," the Union Minister said.  
  Mr.Sarangi said the government will launch 'Mission Poshan' in the 112 Aspirational Districts across the country to improve nutrition through a coordinated scheme.
 Further, the Government intends to spend Rs 2,87,000 crore in Jal Jeevan Mission in 4378 urban areas to supply drinking water to 2.86 crore families.    
 Five hundred Amrit Mission cities will be made free of garbage and pollution due to construction and demolition activities will be controlled during the year, the Union Minister asserted.