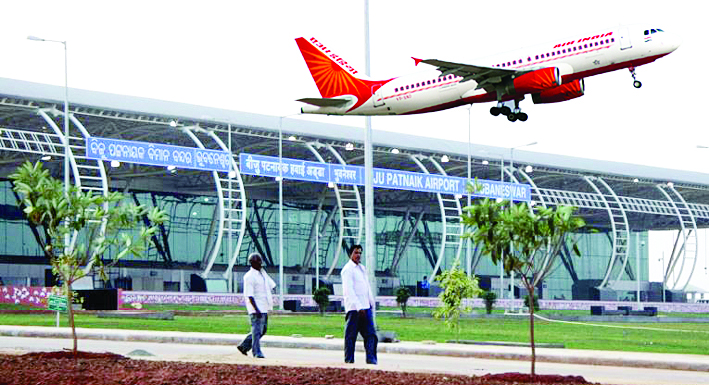 New Delhi: Direct flights can be operated to 18 destinations in 15 countries from Biju Patnaik International Airport (BPIA) in Bhubaneswar, Minister of State (MoS) for Civil Aviation, VK Singh has informed Parliament.  
In reply to a written question, Mr.Singh informed that Bhubaneswar is already included in the list of 18 destinations in 15 countries from where the Indian carriers and carriers can operate unlimited frequencies subject to availability of slots at the airport.
The countries include 5 SAARC countries– Bangladesh, Bhutan, Nepal, Maldives and Sri Lanka- and 10 ASEAN countries – Singapore, Malaysia, Thailand, Brunei, Vietnam, Indonesia, Myanmar, Cambodia, Philippines and Laos.
Allying the apprehension that Centre is creating any obstacle in operation of direct flight to these countries, Singh said the Government provides an enabling environment for growth of civil aviation sector but does not interfere in the operational plans of the airlines.
"Airlines are free to select whatever markets and networks they wish to service and operate within the ambit of bilateral agreements. The airlines provide air services to specific places depending upon the traffic demand and commercial viability," the MoS further said.
Commenting on the up-gradation of airport infrastructure, the Union Minister said that it is a continuous process and is undertaken by AAI from time to time depending on the availability of land, commercial viability, socio- economic considerations and traffic demand to operate to/from such airports.
The AAI has undertaken the work of construction of parallel taxi track, apron, new control tower and technical block and other allied works at Bhubaneswar airport in Odisha at an estimated cost of Rs 289.57 crore, he pointed out.
Giving information about UDAN under Regional Connectivity Scheme (RCS), he said routes from Jeypore and Utkela were awarded to selected airline operators (SAO) for operation of UDAN flights.
However, the awarded UDAN routes were cancelled due to non- compliance with provisions of the contractual agreement by the Selected Airline Operator(s).
The cancelled/terminated bids were offered in a special round of bidding under UDAN 4.1 conducted recently and bids received are under evaluation for award, he said.
As per norms, the selected airline operators are required to commence operations within 6 months of issuance of their Letter of Award or within 2 months from the date the airport gets ready, unless any extension is granted by Airports Authority of India (AAI), the implementing agency.
An airport which is included in the awarded routes of RCS – UDAN and requires up-gradation/ development for commencement of RCS operations, is developed under 'Revival of unreserved and underserved Airports' scheme for which budget provision of Rs 380.69 crore has been made for airstrips/airfields in Odisha.
Under the scheme, Jharsuguda airport in Odisha has already been operationalized, he added.