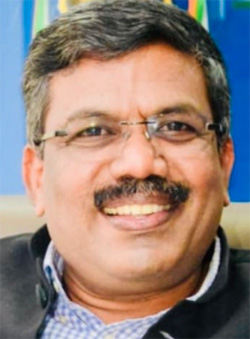 Bhubaneswar: The total solid waste of 3063.562 metric tonnes of soil waste produced in all 30 districts of the State each day.  The districts of Khordha and Ganjam produce majority of solid wastes in Odisha. Least solid waste generated districts are Boudh, Malkangiri, Nuapada while Khordha and Sambalpur have the highest per capita solid waste generation, as per a latest report.
State Director Environment Dr.KMurugesan, who is also the Member Secretary Odisha State Pollution Control Board is regularly monitoring solid waste management across the State with a blueprint in place.
To deal with the waste, the Department Forest, Environment and Climate Change has finalized the 'State Environment Plan' covering the specific thematic areas with compiling District Environmental Plans of all districts.
The District Environment Plan is operated by a District Committee with representatives from Panchayats, Local Bodies, Regional Officers, State Pollution Control Board, and a suitable officer representing the administration, which in turn is chaired and monitored by the District Magistrate. The District Environment Plan is prepared according to the model/format suggested by CPCB published on its website.
The Report of the Department of Forest, Environment & Climate Change says that solid waste is segregated in 28 districts of the State. Boudh did not segregate their solid waste while the data on Waste segregation was not available for Dhenkanal district.
Khordha, Nayagarh and Keonjhar are 3 districts that have achieved 100% segregation, whereas 4 districts, namely, Jajapur, Khordha, Nayagarh and Subarnapur are segregating hazardous waste. Khordha, Nayagarh and Keonjhar are 3 districts which have achieved 100% waste segregation.
Similarly, Bhadrak, Cuttack, Jajapur, Subarnapur have more than 80 per cent of waste segregation. Balangir, Bargarh, Deogarh, Gajapati, Ganjam, Jagatsinghpur, Kalahandi, Kendrapara, Koraput, Malkangiri, Nabarangpur, Rayagada and Sundargarh have achieved 50 – 80 per cent segregation. Data of waste segregation was not available for Anugul, Baleswar, Boudh, Dhenkanal, Jharsuguda, Kandhamal, Mayurbhanj, Nuapada, Puri and Sambalpur, it said.
Gajapati district is the only district where manual sweeping is not done. Mechanical Road Sweeping systems are available only in the districts of Balangir, Bhadrak, Cuttack, Khordha, Sambalpur, Puri and Nayagarh.
The report also found that 14 districts in the State have Waste Deposition Centres and 15 districts don't have such centres. Data of Waste Deposition Centres for Sambalpur district not available, said sources. A total of 88 waste deposition centres are required by the districts.
A total of 47 per cent of the districts have 100 per cent collection of Solid Waste. The districts are–Anugul, Baleswar, Boudh, Gajapati, Kandhamal, Keonjhar, Khordha, Mayurbhanj, Nayagarh, Nuapada, Puri, Sambalpur, Subarnapur and Sundargarh.
As per the waste management report, 100 percent waste collection in ULB's was seen in 19 districts. Data for percentage of door-to-door waste collection in ULB's was not available for 6 districts viz. JharsugudaKalahandi, Kandhamal, Kendrapara, Malkangiri and Mayurbhanj.
Nabarangpur has the lowest per cent of door-to-door waste collection at 50 per cent, followed by Ganjam at 60 per cent. Balangir has door to door collection of waste at 70 per cent while Koraput and Rayagada have door to door collection of waste at 75 and 80 per cent respectively.