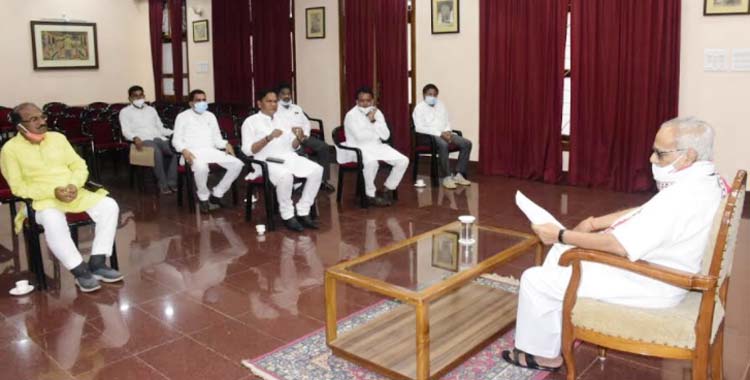 Bhubaneswar: Upset over alleged denial of their legitimate rights by Assembly Speaker Surjya N Patro, 12 BJP MLAs met Governor Ganeshi Lal on Sunday and requested him to return the six bills passed in the House without participation of the opposition on the concluding day of the budget session.

Leader of Opposition Pradipta Kumar Naik along with the Saffron Lawmakers Sunday called on Governor Prof Ganeshi Lal to request him to return the six bills passed in the State Legislative Assembly during Budget Session.
The Leader of Opposition told media persons after the meeting the six bills were passed in the House arbitrarily and without taking the Opposition's view into consideration.
"The legislature party appealed the Governor to return the bills to the government for reconsideration," Mr.Naik told.
He alleged the Opposition was sidelined in the House and the Rules of Business were violated.
Accusing Speaker Surjya Narayan Patro of partial attitude, he said it seems the Speaker has been running the House under the directive of a particular political party.
He further stated there was no point of seeking apology in the House, as demanded by the ruling party, following suspension of three Opposition legislators.
BJP MLA from Sambalpur, Jayanarayan Mishra, who was part of the delegation that met the Governor, said the legislature party apprised him about the ruling party's monopoly in running the House.
He asked why the House was adjourned when the Opposition raised mining scam and deteriorating law and order situation earlier.
The party, however, earlier in the day had said that a party delegation will meet the Governor on Monday.
Notably, the Speaker adjourned the House for an indefinite period on April 3, ahead of five business days of the schedule.
The BJP legislators on Saturday had staged a night-long dharna protesting suspension of party MLAs Bishnu Charan Sethi, Mohan Charan Majhi and Jayanarayan Mishra from the remaining business days of the Budget session.
The suspension came after the Speaker reviewed video footage of the proceedings of the House.
BJD's Pramilla Mallik said BJP Members Bishnu Charan Sethi, Jayanarayan Mishra and Mohan Majhi hurled shoes, earphones and papers at the Speaker's Podium on Saturday.