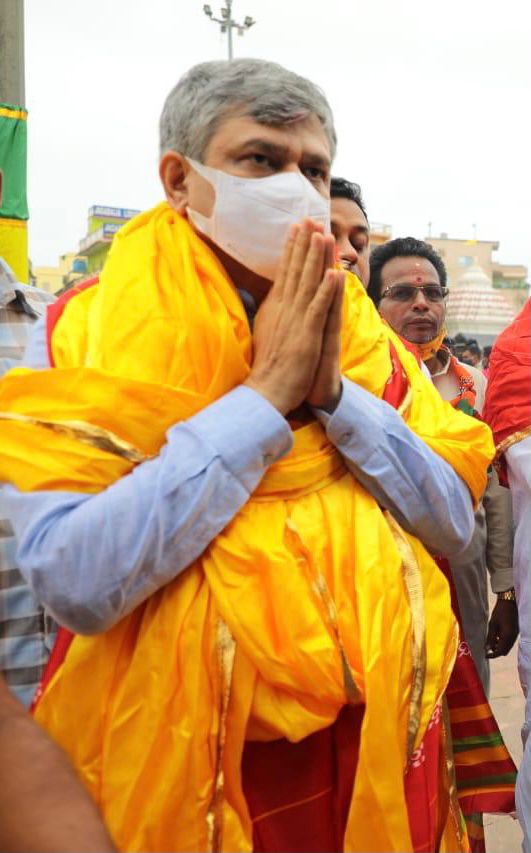 Ahead of Panchayat and Urban polls, the Odisha unit of Bharatiya Janata Party (BJP) has got another tall leader Ashwini Vaishnaw, who has the potential to push the party to a new height in coming days.
In his first tenure as MP, Vaishnaw has been elevated to the Union Cabinet and important portfolios like Railways, IT and Communication, has been given to him. For the first time in Odisha's political history, the Railways Ministry has been given to a leader from Odisha.
Most importantly, the leader, who is in his first visit to Odisha, is leaving no stone unturned to build a political image in the State.
As soon as he put his feet here at the Biju Patnaik International Airport yesterday, Vaishnaw, in his twitter handle, said, "Odisha has always remained my Karmabhumi (work place), waiting for blessings of Lord Jagannath and people of the State."
He kept updating about his visit to Odisha – from boarding the flight in New Delhi to arriving in Bhubaneswar and his visit to Puri, party office, railway station and also inside train—on his official twitter handle. Most of his tweets are in Odia.
Vaishnaw is a 1994-batch Odisha cadre IAS officer. He left the job, joined corporate and now became Union Minister. By birth, he belongs to Rajasthan.
He also tweeted later during one of the stops in his visit, "I feel fortunate to have seen the five-pronged prayer and burial at the Satyavadi Bakul Banbidyalaya. This experience will be memorable on the occasion of the Jan Ashirwad Yatra. Thank you for the congratulations of the party workers and people".
After paying a visit to Lord Jagannath temple in Puri, he returned to Bhubaneswar, where a grand welcome was given to the new Minister at BJP party office, where he assured that he will take steps for development of Odisha.
Continuing his hectic schedule, Vaishnaw soon proceeded towards the Bhubaneswar Railway station to board a train for Rayagada.
During his short stay in the Bhubaneswar railway station, he inspected the platforms at the station. He also interacted with the passengers and found that they were happy with the general cleanliness of the station. Railway station is the heart of any city. Similarly Bhubaneswar railway station is also the heart of Bhubaneswar city, he said.
He then boarded the Hirakhand Express enroute to Rayagada. The Union Minister did not stop there, he walked up to passengers in the train and took feedback about train services and hygiene. The Minister also shared PM Modi's vision about Railways and development in the country with co-passengers.
It came as a surprise to many passengers as the Minister of Railways, during his enroute journey towards Rayagada, interacted with them and took their feedback about the general impression and cleanliness of the train.
Passengers were generally enthusiastic about interacting with the Railways Minister. He was seen explaining about the supply chain. He entered the general sleeper coach also and interacted with a few more passengers.
Today, the leader started his journey with a darshan of Maa Majhighariani, a famous Devi temple in Rayagada. He interacted with the beneficiaries of PM Aawas Yojana and Pradhan Mantri Ujjwala Yojana. He also met Padmashree Shanti Das and told her that the Prime Minister has greeted her with folded hands.
"It was a pleasure meeting Padmashree Shanti Das Ji in Rayagada. Her contribution for the education of tribal girls and peace in Naxal affected areas is indeed very inspiring," Vaishnaw tweeted. He also reviewed the progress of the new Rayagada railway division.
All these activities of Vaishnaw have created a spark in the political circle in Odisha.
A political observer said Odisha BJP has now got another tall leader. So far, the BJP was having national level leaders like Dharmendra Pradhan, Jay Panda, Aparajita Sarangi and Sambit Patra. Now, Ashwini Vaishnaw is a tall leader in the State, who is having direct relation with the Prime Minister and national leadership, he said.
The day BJD Boss and Chief Minister Naveen Patnaik is in Malkangiri, Vaishnaw is in KBK region. It also gives a clear message that BJP is all set to take full political mileage using the bureaucrat turned politician in Odisha, the observer said.