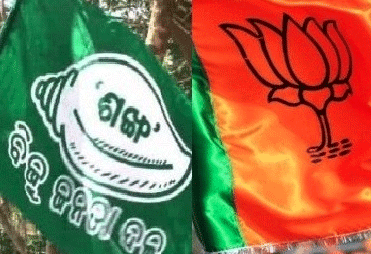 Bhubaneswar: Ahead of the crucial Jharsuguda by-poll, BJP and BJD locked horns over prevailing law and order situation in Odisha, particularly, in poll-bound Jharsuguda district.  
Senior BJP leader and Union Minister Dharmendra Pradhan and BJD National Spokesperson and MP Sasmit Patra engaged in a war of words on Twitter.
Shri Pradhan cited the alleged kidnap and murder of 15-year-old boy Samarth Agrawal of Jahrsuguda just two months after the brutal murder of the then Health Minister and local MLA Naba Kishore Das (January 29).
Alleging lawless Odisha is a reality, Shri Pradhan said this is high-time people in power (BJD government) recognise the fault-lines in the law and order situation in the State.
"Murder of young Samarth exactly within two months of the broad daylight killing of Minister Nabha Das exposes Odisha government's tall claims on rule of law," he said. The BJP leader alleged that neither citizens nor public representatives are safe in Odisha.
Gruesome incidents like the above mentioned two murders on a regular basis, particularly in Jharsuguda have shocked everyone and weakened the trust of people of Odisha, he said.
"No amount of empathy will bring solace to young Samarth's family. The Odisha government must pull up its socks to ensure rule of law and safety of citizens," Shri Pradhan added.
Senior BJD leader and Rajya Sabha member Sasmit Patra countered Union Minister's statement saying BJP-ruled states like Uttar Pradesh, Madhya Pradesh and Maharashtra have more murder cases than Odisha in 2021.
Calling Shri Pradhan as Bhai (Brother), Dr.Patra said, "Don't insult the peace-loving people of Odisha by branding them as lawless. Don't insult Odisha for your petty political narrative. Its surprising to see that despite you having been an Hon'ble Union Minister for so long, you are still unaware about the difference between lawlessness (law and order) and crime."
Lawlessness is when during a GST raid in Padampur, Odisha, hundreds of Odisha BJP leaders and workers storm in forcibly, snatch the papers seized by the GST raiding party, in a bid to help the businessman who had cheated in paying GST, he said.
When 500 people block National Highway between Sambalpur to Cuttack delay in completing NH work for many years and when thousands of farmers protest against Central neglect for not lifting surplus paddy are 'law and order' issues, Patra said
Stating that crime is committed by a group or individual which is investigated and the guilty are brought to justice, the BJD leader said, "Please don't try to mislead and do politics on sensitive matters of crime."
As per NCRB Report (2021), BJP-ruled states like UP, MP, Maharashtra, Assam & Haryana have more rape cases than Odisha. Similarly, the BJP-ruled states like UP, MP and Maharashtra have more murder cases than Odisha in 2021, the BJD MP said.
Reacting back to Dr.Patra, BJP's Lawmaker Suryabanshi Suraj said, "People of Odisha are peace-loving and do understand what lawlessness and crime mean. Safety & security of citizens is one of the most important functions of a government. Odisha government is a failure in protecting the rights & life of its peace-loving citizens."
Though two months passed to Minister Naba Das's murder, the motive behind the crime is not established. Isn't' it lawlessness?? A prime accused in a murder case—Gobind Sahoo is found mysteriously dead in Jail. Isnt' this law lessness?, asked the BJP leader.
He also cited the examples of the Mamita Meher murder case, Mahanga triple murder case, BJD ZP member Dharmendra Sahoo's mysterious death case and attack on JE at Bari Block by BJD ZP member and supporters.
"BJD MLA Bijay Shankar Das is an accused in rape case. Is this not lawlessness for you @sasmitpatra Bhai?", Suraj asked BJD Leader.