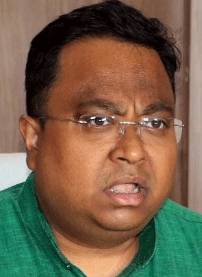 Bhubaneswar: Reacting strongly to the gross allegations made by the BJP on selection of beneficiaries of PMAY, the Governing BJD slammed back the BJP alleging the saffron party is again conspiring to stop the rural housing for poor people.
Addressing a press meet this morning, BJD Rajya Sabha MP, Sasmit Patra and Spokesperson Shreemayee Mishra, said that nowhere is it seen that people's representatives would conspire to stop the benefits for the very people who have elected them.
"But, it has been seen in the case of the BJP MPs of Odisha who were elected as people's representatives in 2019 from Odisha and conspired and stopped the rural Awas houses under PMAY for the people of Odisha," said Dr. Patra.
Their conspiracy and stopping of rural houses was their return gift to the very people of Odisha who had elected them. They worked against the interests of the people of Odisha and the State by going to Centre in Delhi as public representatives, conspiring and stopping lakhs of rural houses of people of Odisha under PMAY(G), he said.
The BJD leader said Odisha was awarded by the Central Government for best performance in rural housing but State BJP put so much pressure to stop sanction of houses to the best performing State.
BJP MPs disrespected the faith of the very people who had voted for them in their respective constituencies. Their conspiracy was successful and the rural Awas houses were stopped by the Centre, he said.
"With tremendous pressure from the Odisha Government and the BJD MPs, when we tried hard to get it implemented now; again the BJP is again conspiring to stop it. They are again working against the interests of the very people who elected them," the BJD leader said.
Dr. Patra further said that Odisha needs more than 15 lakh houses but the Centre has sanctioned only 8 lakh houses and is going to stop the rural housing scheme from this year. So where will these 7 lakh homeless people go? he asked.
The BJP Government at Centre is stopping this scheme from this year so they are doing this cover up. BJP has been crying hoarse about beneficiaries who are present or not present in PMAY list, said Mishra.
Stating that beneficiary selection is done according to the guidelines issued by the BJP-led Centre, she said, "If they are unhappy, let the BJP ask its party in power in Centre to change their PMAY guidelines instead of shedding crocodile tears in Odisha."
The Centre's guidelines provide new allotment through PalliSabha/Gram Sabha. Apart from that there is a provision for objection period where objections can be filed, she said.
The Odisha Government will take every objection very seriously and do enquiry. Instead of shouting hoarse, if there are any ineligible beneficiaries or any beneficiaries have been left out, let the BJP file the objections as per their party-led Centre's PMAY guidelines or provide a beneficiary list which they claim are genuine, Dr. Patra said.
Asking "Why are they not doing it?" the BJD leader said every objection will be enquired into by the BJD Government. It seems the BJP's sole intention is that people of Odisha should be harassed and be pained. Poor deprived tribal people will remain homeless, he alleged.
Dr. Patra and Mishra said that BJP is again conspiring to stop the rural housing and deprive 15 lakh poor people from getting houses and thinking to make political mileage out of it.
"People of Odisha are intelligent. They knew that you conspired and stopped the rural housing and you got your results in ZP elections where you lost in all the districts and BJD won a record 30 out of 30 districts. People will remember and teach a lesson to this negative politics of Odisha BJP," the MP said.
The two leaders said their party strongly objects and condemns this conspiracy of BJP of stopping PMAY houses of people of Odisha and now the new conspiracy to create a false narrative and stop even those houses that have been released.
"Even if you (the BJP) stop rural housing PMAY by conspiring, BJD government will provide houses and take care of our poor people and also expose the role played by BJP in depriving houses to eligible poor," he said.
They said that BJD will continue to fight with Centre till their demands for providing lakhs of pending PMAY(G) houses for tribals and people of Odisha are not met.