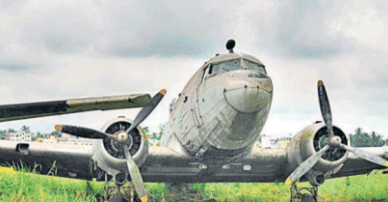 Bhubaneswar: The iconic Dakota DC-3 aircraft, used by former Odisha chief minister and legendary leader Biju Patnaik finally reached the capital city Bhubaneswar on Wednesday evening.
Three long-wheel trucks carrying the dismantled parts of the plane reached the city. Hundreds of people were seen today waiting along the National Highway connecting Kolkata with Bhubaneswar to have a glimpse of the dismantled Dakota aircraft used by the legendary leader Biju Patnaik. People were seen clicking pictures with the aircraft on the highway.
The dismantled Dakota (DC-3) VT-AUI aircraft will be reassembled and then positioned at a designated place at the Biju Patnaik International Airport here.
This aircraft is part of Kalinga Airlines, founded by Biju Patnaik. Kalinga Airlines was operating a dozen Dakotas from its headquarters in Kolkata.
According to historian Anil Dhir, the highest 14 planes were there in Kalinga Airlines, of which four were four belonged to Biju Babu and remaining were hired by him. At least nine were crashed while one is in Indonesia, another brought to Odisha. There is no information available of the remaining three aircrafts of the Kalinga Airlines, he said.
The plane remained abandoned for decades on the premises of the Netaji Subhas Chandra Bose International Airport in Kolkata. The aircraft weighed over 8 tonnes and was around 64 feet 8 inches long.
The State Government started the process to bring back the Dakota plane in 2017. On December 13, 2017, the Airports Authority of India (AAI) had written to the State Government and proposed to shift the plane from Kolkata. The AAI had also offered all assistance and support to the State Government in procuring the aircraft.
The State Government again wrote to AAI on January 22, 2020, and informed that it should be displayed near Biju Patnaik's statue outside Bhubaneswar airport. The process was stalled for two years due to the Covid pandemic in 2020 and 2021.
The vintage Dakota aircraft reached temple city during the Men's Hockey World Cup. It is a significant achievement for the State to showcase to visitors, especially foreigners.
The Odisha government has engaged a specialised team to reassemble the dismantled parts after the vehicles carrying them arrive at the Biju Patnaik International Airport (BPIA) in Bhubaneswar. The Airports Authority of India (AAI) has allotted 1.1 acres of land for this purpose at the BPIA Bhubaneswar. Now, people will be able to see the symbol of Biju Babu's bravery in the city.