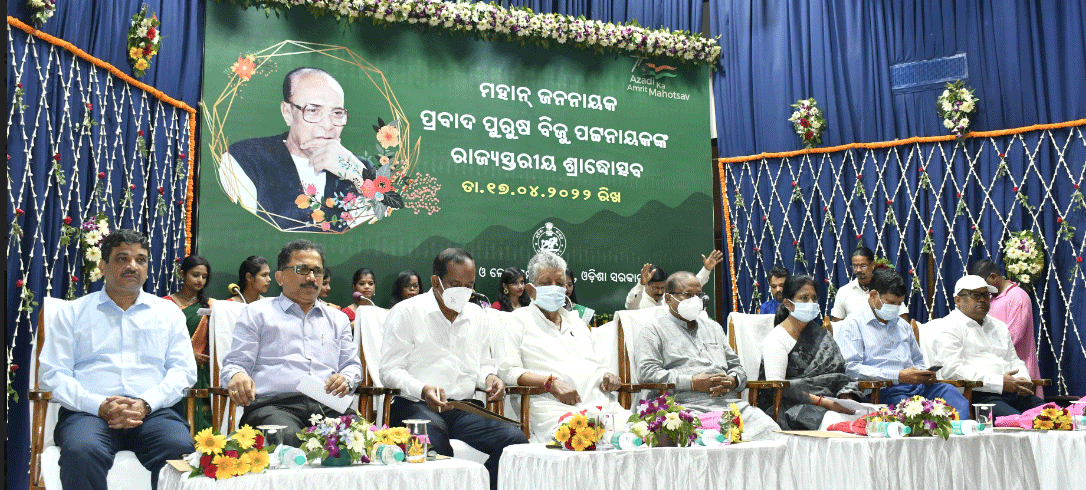 Bhubaneswar: Chief Minister Naveen Patnaik Sunday said women are the real drivers of 'New Odisha' so efforts for their empowerment is a big tribute to legendary leader Biju Patnaik. 
CM Mr.Patnaik said this while adddressing the state level function on virtual mode held on ocassion of the 25th Death Anniversary of former Chief Minister Biju Patnaik.
"Women empowerment was the most favourite programme of Biju Patnaik", the Chief Minister, who is also the legendary leader's younger son, said. 
He said that Biju Babu would have been very happy now on seeing the huge partcipation and success of women in the recently concluded Panchayat and Urban Local Bodies elections.
The women are the real drivers of the New Odisha, he said. On his father's uniqueness, Mr.Patnaik said Biju Babu was different from all and his style of functioning was also altogether separarte from others.
His only agenda in life was progress of Odisha and development of Odias. All his programmes were based on empowerment, development and Swabhiman (self pride).
He never comprised on these three aspects of life, Mr.Patnaik said. Biju Babu is fondly remembered across the State.
Minister Information & Public Relations, Raghu Nandan Das chaired the meeting. Mayor Bhubaneswar Sulochana Das, Former Minister and Senior Lawmaker Prafulla Samal, Lawmakers, Ananta Jena, Susanta Rout, Utkal Prasanga and Odisha Review Editor Lenin Mohanty, Principal Advisor to CM Upendra Tripathy graced the occasion.
Principal Secretary Information & Public Relations, Bishnupada Sethi graced the occasion. Director Information and Public Relations Indramani Tripathy coordinated the entire ceremony, which was organized in a graceful manner.
Earlier in the day, Naveen paid floral tribute to Biju Patnaik, also a freedom fighter, on the premises of Odisha Legislative Assembly.
Taking to Twitter, he wrote, "A humble tribute to Biju Patnaik, the Bara Putra and People's Leader of Odisha, on his death anniversary. The path he has shown has now made Odisha a leader in various fields of development. His principles and ideology will always inspire us to serve the people."
The Governing BJD also organised several programmes across the state remebering the legedndary leader after whose name the ruling Biju Janata Dal is formed and in power in Odisha since 2000. 
Internationally acclaimed sand artist Sudarsan Pattnaik has also crated a a sculpture at Puri sea beach remembering the legend on his 25th death anniversary.
Biju Patnaik, the tallest politician in Odisha and India as well, had passed away on April 17, 1997.Apart from being a reputed politician, Biju Patnaik wass also an ace pilot and flying Dakota (VT-AUI) aircraft of the Kalinga Airlines, founded by him.
He scripted a history when he rescued former Indonesia Vice-President and then Prime Minister Sutan Sjahrir from the Dutch military back in 1947 using the aircraft.Biju Babu was elected uncontested to Odisha Legislative Assembly  in 1946 from North Cuttack Constituency. In 1952 and 1957, he won from Jagannathprasad and Surada respectively in Ganjam district. In 1977, he was elected to the Lok Sabha for the first time from Kendrapara and become the Union Minister for Steel and Mines in Morarji Desai and Charan Singh governments until 1979. 

He was also re-elected to Lok Sabha in 1980 and 1984 from Kendrapara as Janata Party candidate. 

Biju Patnaik was Chief Minister of Odisha twice for 7 years and 111 days. His first terms was from 23 June, 1961 to 2 October, 1963 and the second term from 5 March, 1990 to 15 March 1995.