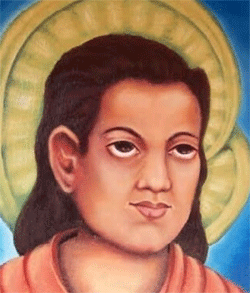 Bhubaneswar: To promote the chronology of the works and study the development of spiritual vision of Bhima Bhoi, the State Government has decided to set up Bhima Bhoi Field Center to be set up at Kandhara and Khaliapalli.
Department of Higher Education has also approved the project for establishment of the field center at Kandhara and Khaliapalli for studies and dissemination of ideas and teachings of Bhima Bhoi and Mahima Dharma. It will make a modest attempt to study marginalized faiths and narratives in a comparative perspective.
According to officials, research on Bhima Bhoi and Mahima Dharma is incomplete without reference to Kandhara and Khaliapali. While Kandhara is known as the place of enlightenment for Bhima Bhoi, Khaliapali is known as Karma Bhumi or Sadhana Pitha. Any research initiative would be incomplete without an organic connection involving Kandhara and Khaliapali.
In addition to this, Boudh district also needs the attention of researchers because of historical linkage between these places.
Field Centre at Kandhara (Rairakhol) under Gangadhar Meher University, will open resource-cum-documentation Centre at Kandhara (Place of Enlightenment of Bhima Bhoi). The basic purpose of such a resource sub-centre would provide supplement research on Bhima Bhoi.
The resource Centre will provide support to researchers who are interested in case studies, ethnographic studies on Mahima Dharma and Bhima Bhoi.
Since many villages around Kandhara are deeply impacted by Mahima Dharma, it is the best place to have a resource-cum-documentation Centre on Bhima Bhoi and Mahima Dharma. Facilities will be provided to keep all materials available on Bhima Bhoi and Mahima Dharma, officials said.
The Resource Centre will provide a unique opportunity to study the teachings of Mahima Dharma and Bhima Bhoi in a divine atmosphere which is usually missing in urban areas.
Issues relating to socio-economic, psycho-cultural and spiritual deprivations/ exclusion are to be taken up to understand the deep-rooted problem holistically.
Khaliapali, is the village that became the epicentre of Mahima Dharma during the late 19th century from where the poet-philosopher composed the hundreds of verses and also propagated the religion.
The village was the workplace of the poet where he lived for a good 18 years from 1877 to his death in 1895. In the memory of the saint poet the villagers have constructed a temple which is known as Mahima temple or the Sunya Mandir.
At present, the temple premise which is known as Bhima Bhoi Sadhana Pitha houses a monastery for the morels of Mahima dharma, a library, and a museum. This is managed by a trust. Even though many of the unpublished works in the form of Pothi are recovered from different sources, many Pothis are yet to be discovered, the officials said.
The field Centre on Bhima Bhoi will be opened under Gangadhar Meher University with modern facilities so that scholars can stay there and do research on Bhima Bhoi and Mahima Dharma.
The Library should be upgraded into a standard library on religious spiritual, socio – economic and behavioural studies. This would facilitate the researchers to locate and relate Mahima Dharma in a comparative perspective.
The objective is to study and disseminate works of Bhima Bhoi and the living faith of Mahima Dharma from an inclusive perspective and develop a history of the communities of the faith.
The field Centres will also provide research-based knowledge support to policy making bodies with regard to marginalized faiths and communities.
It will also provide knowledge support to civil society organizations at the grassroots, state and national levels about Mahima Dharma and Bhima Bhoi's literature.
The Centres would also help in developing a database on socio-economic exclusion and marginalization of the weaker section.
The Centre would take up research activities primarily on socio-economic, psycho-cultural and spiritual issues. Besides, Ph. D Programme to be run by the Centre and the fellows at the Centres
The Centres will also organize national and institutional seminars/workshops on themes of Mahima Dharma/exclusion and marginalization on a regular basis (Social Science/Literature)
Bhima Bhoi and Mahima Dharma, a living faith, mostly of marginalized communities, manifesting rather late but incorporating many spiritual and philosophical traits of faiths of Indian soil, offers interesting narratives on socio cultural life of the marginalized others' in Odisha.
It is interesting to study how this relatively new religion (It is considered to be of recent origin) has challenged the hegemony of a dominant religion and culture.
The most curious aspect of this religion is its emphasis on egalitarianism and liberation from oppression to enlightenment.
Mahima Dharma emerged and gained prominence in the early part of the 19th Century. It is interesting to note here that the rise of Mahima Dharma and its wider acceptability within the down trodden communities who otherwise were considered as 'others' poses larger questions for the researchers.