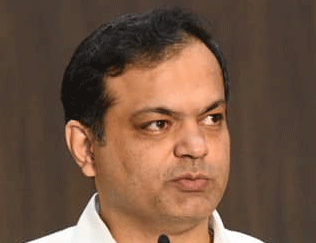 Bhubaneswar: Senior IAS Officer, Aravind Agrawal is appointed as the Secretary, Higher Education.
2007 Batch IAS Shri Agrawal is serving as Director,Social Welfare & ICDS In the Department of Women & Child Development.
He is also Managing Director, Mahila Vikas Samabaya Nigam and Director Rural Development,
The State Government on 9 June effected the reshuffle and appointed Shri Agrawal in the Department of Higher Education.
Shri Agrawal was promoted to Commissioner-cum-Secretary Rank on 1 January, 2023 and was waiting for a new assignment as Commissioner-cum-Secretary of a Department.
Recently, Shri Agrawal was rushed to attend Train Tragedy at Bahanaga, where 288 people were left dead and over 1200 injured.
Team Odisha Care performed the rescue services and Shri Agrawal quietly performed the services in a befitting manner, said a senior officials.
Shri Agarwal, who is serving in Social Sector for quite some years, has been given charge of Higher Education.
Shri Agarwal is also allowed to remain in additional charge of Director, Rural Development, the notification added.
Principal Secretary Finance, Vishal Kumar Dev is allowed to remain in additional charge of Chairman, Odisha Hydro Power Corporation Ltd, (OHPC) Bhubaneswar.
A notification issued by the Department of General Administration & Pension & Public Grievances assigns Senior IAS Officer Bishnupada Sethi as Officer on Special Duty, General Administration & Public Grievance Department.