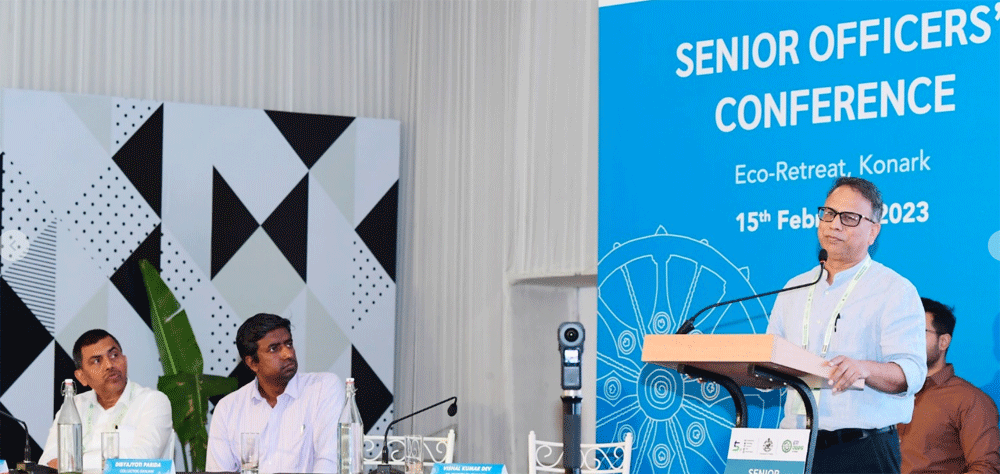 Konark: In order to ensure that banking services reach every nook and corner of the state, State Government plans to cover each Gram Panchayat by a Brick and Mortar Branch.
Principal Secretary Finance, Vishal Dev said that the State Government in Department of Finance is carrying out consultation with SLBC, RBI, NABARD & Controlling Heads of major banks for devising a low-cost branch model to be deployed across the State so as to cover all unbanked GPs.
Speaking in the Senior Officers' Conference Shri Dev said that financial inclusion is a high priority agenda of the Government. It's a process by which Government ensures access to appropriate financial products and services for the vulnerable groups such as weaker sections and low-income groups at an affordable cost in a fair and transparent manner by mainstream institutional players.
He however said that for the state of Odisha, financial inclusion is still a critical challenge since banking penetration in the state is quite low. Though there is an increase in the banking network in the state over the last 5 years, the same is not uniformly distributed across all districts.
Odisha has 6794 GPs, out of which 2630 GPs are covered by 5695 Brick & Mortar branches. Rest 4160 GPs are covered by BCs / CSPs & IPPB Access Points. There are 4 GPs in the State without any banking touch points.
Even though the Compound Annual Growth Rate (CAGR) of banking network in the State is 2.58 Percent during the last 5 years against the CAGR of 1.55 Percent at national level, the availability of brick and mortar branches across the state is uneven.
Most of the branches are concentrated in certain regions because of business profitability. The District wise no of branches per lakh of population clearly indicates that more than 20 districts are falling behind the state average of 13.57 Percent. People in the remotest part of state are still struggling for basic banking services including direct benefit transfer.
Since banking is an essential services for financial inclusion, Chief Minister Naveen Patnaik has a vision that not a single citizen in the remotest corner of the State is deprived of availing basic banking services including Direct Benefit Transfer.
Shri Dev informed that the State Government has taken several proactive initiatives to encourage the bankers to set up brick and mortar branches in all Unbanked GPs through infrastructure support by providing rent free space to the scheduled commercial banks for a period of 5 years, engagement of Women SHGS as BCs in all unbanked GPs in the State, Institutionalizing Chief Minister's Award to the Best Performing Banks every year etc.
In order to achieve the broad goal of extending banking services in all unbanked GPs in phased manner, Finance Department in consultation with RBI, NABARD and SLBC has identified 270 un-banked GPs for opening Brick and Mortar branches during Financial Year 2022-23 on priority, said he.
Out of this, 150 unbanked GPs have been funded with Rs. 9.50 lakh each for creation of Infrastructure.
Despite all these proactive steps, the progress in terms of setting up brick and mortar branches in unbanked GPs by banks is very slow and negligible, officials admit.