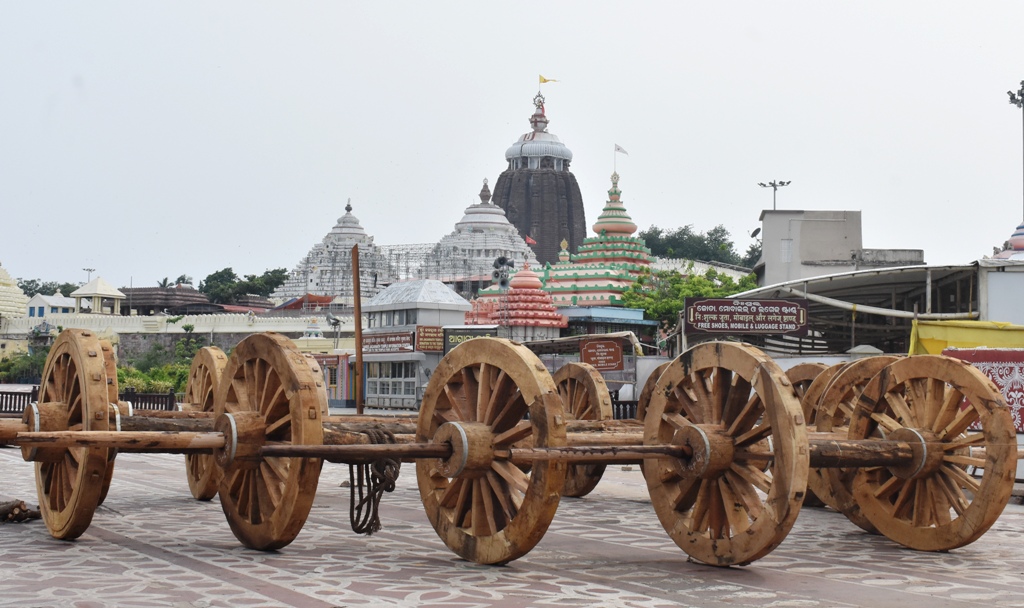 Puri: With the Biswakarma Servitors fixing wheels to the axles of three chariots, a major portion of the work for construction of three chariots for the Rath Yatra this year has been completed on Saturday, that too four days before the Snana Purnima.  
Usually, this part of chariot construction is completed on Snana Purnima. But this year, the work has been completed much ahead of schedule, thanks to initiative of Shree Jagannath Temple Administration Chief Krishan Kumar.
An ardent devotee of Lord Jagannath, Dr.Kumar is closely monitoring all the activities related to Ratha Jatra, scheduled to roll out on 12 July.
The construction of all the 42 wheels and carving of Singha Biraala Rupa on all 44 Kona Guja got completed for the three chariots. The making of Jokha, 5 for each chariot along with the carving on the Naata Goda have also commenced, Shree Jagannath Temple Administration (SJTA) informed through twitter handle.
Similarly, the construction of all the Dandaa along with the Chaka Dera (all the wheels got fixed with axles) work is completed for the three chariots while the making of Jokha and the carving on the Naata Goda is going on in full swing.
The making of 90 Aga Pateli Kanta (of 12 mm each) along with 44 Kanta (nails) for Jokha, Gayala, Chandaa Gayala and Kainchi (of 16 mm each) are also completed at designated Kamaara Shaala for the three chariots.
Puri Sub-Collector Bhabatarana Sahu said the work has been completed much before the stipulated time, which is a matter of happiness. District administration, temple administration, Maharana Sevaks are coordinating to complete the chariot works before time, he said.
In view of the Covid-19, the State Government has created a bio-bubble at Ratha Khala, the workplace where the construction of the chariots is going on, to ensure a secure and Covid-free environment for the carpenters.
This year's Rath Jatra of Puri Jagannath Temple is scheduled to be celebrated on July 12. The construction of the chariots started on the occasion of Akshaya Tritiya on May 15.