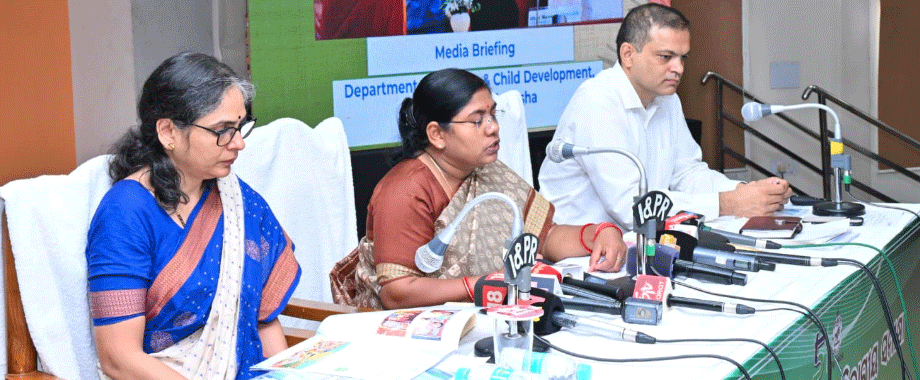 Bhubaneswar: As many as 51,130 beneficiaries have been included under the Ashirbad scheme launched to provide support and financial assistance to children who lost their parents during the period of Covid 19 pandemic, said Women and Child Development Minister Basanti Hembram Wednesday. Secretary Subha Sarma, Director Arvind Agarwal was present during the Media Meet.
Chief Minister Naveen Patnaik reviewed the targets and achievements of the Women & Child Development department and the fulfillment of the assurances given in the manifesto.
The government has committed to extend the benefits to orphan children till they attain the age of 18 years, she said.
In keeping with the 5T goals of the Government, the entire process has been made citizen friendly using the Ashirbad portal. Payment of assistance is credited into the bank account of the child / guardian on a monthly basis through DBT, she said.
Hembram said that Mamata, a flagship scheme of the Odisha government, is a conditional cash transfer maternity benefit scheme which aims at reducing maternal and infant mortality by improving the health and nutrition status of pregnant women and lactating mothers and their infants.
Since s inception in 2011, more than 56 lakh pregnant women & lactating mothers, children in the age group of 6 months to 6 years and adolescent girls have benefitted included under the Mamata scheme.
As part of the 5T strategy of the Department and to introduce greater transparency and accountability, e-Mamata 2.0 has been initiated. Relaxation given to PVTGs since 2014 for more than 2 live births. 22,733 PVTG women have benefitted.
Mobile based Application under 5T initiatives was launched. AWWs can update all details of pregnant and lactating women through this app to get their cash payments in a timely manner, without any hassles.
More than 99% of pregnant women have used the mobile app. More than 17.86 lakh SMS on transfer of funds have been sent to beneficiaries, the Minister said.
The Budget Provision has increased to almost 10-fold during the last two decades from Rs. 376.86 crores in 2000-01 to Rs 3,670 crores in 2023-24. Odisha is one of the first states in India to decentralize SNP in April 2011, thereby eliminating involvement of contractors and other suppliers, she pointed out.
This decentralized system involves local Women Self Help Groups of the State for production and supply of Take-Home Ration (THR). Benefits under the scheme such as Hot cooked Meals and Take Home Ration are being provided to 39.19 lakh beneficiaries across 30 districts.
Odisha is the first State in India to initiate the concept of Nutrition Budgeting in the Financial Year (FY) 2020-21 along with Gender Budget, Child Budget and Children's Policy.
It has enabled the state to stride ahead in improving the nutritional status of the most vulnerable, as well as to focus on issues of social equity and inclusion.
To promote dietary diversity for children and for making available green leafy vegetables, drumstick, papaya etc. on a daily basis, around 50,000 nutri-gardens have been developed in convergence with PR & DW Department and OLM, in AWCs as well as in the houses of SAM children.
Further, the Minister said 100% honorariums are being processed through the portal. Rs 756.90 crores has been released to AWWs and AWHs as honorarium and Rs 54.65 crore has been released to AWWs and AWHs as incentives under POSHAN Abhiyaan through the portal till April 2023.
Purna Aahara or Community based management of acute malnutrition is being implemented in all districts across the state since November 2022. The programme was scaled up after successful piloting in Koraput and Nabarangpur districts.
SAM children are provided with Augmented Take Home Ration for 112 days and 1 egg each day along with requisite medicines.
Secretary WCD, Subha Sharma said that the Department has received laurels and praise from different quarters. Odisha ranks number 1 in the country in Composite IYCF Index in NFHS-5.
Odisha had the highest increase in the number of pre-school beneficiaries; Odisha had one of the lowest proportions of non-functional Anganwadis – Accountability Initiative, 2019.
Odisha was making steady progress in matters of food security, child nutrition and public health and has been considered 'leader' state – Jaccha-Baccha Survey, June 2019, Shrimati Sarma said.