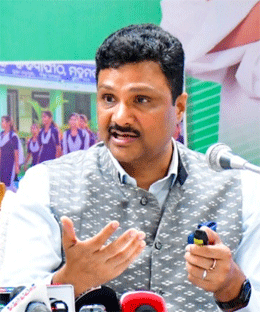 Bhubaneswar: For the first time in the country, the Department of Agriculture & Farmers' Empowerment developed a standard operating procedure (SOP) for recognition, evaluation, and release of these traditional landraces through a seed system for landraces under Odisha Millets Mission (OMM).
Principal Secretary, Department of Agriculture & Farmers' Empowerment, Arabinda Padhee, said that "Government of Odisha has now formally approved the formation of the landrace varietal release committee to release traditional millet landraces conserved by tribal custodian farmers. Last 3 years have been spent in rigorous trials to get the necessary scientific data."
By combining scientific rigor and traditional wisdom, the seed system for landraces initiative has created a paradigm shift in mainstreaming agrobiodiversity, Dr.Padhee said.
Food & Agriculture Organisation of United Nations is also keen to partner with Odisha on the seed system for landraces and take these learnings to other countries of the world, Dr.Padhee said.
This system was also developed in consultation with ICAR, OUAT, technical experts, field NGO partners and most importantly custodian tribal farmers. In addition to standard scientific parameters such as yield, parameters such as taste, climate resilience, pest tolerance, cultural preference and others were also considered during the development of guidelines.
As part of the process, documentation of landraces was undertaken through crop diversity blocks, conservation in farmer fields, mapping of farmer preferences, development of seed standards from farmer point of view, and so on and so forth were undertaken.
In addition, participatory varietal trials of traditional landraces along with improved varieties were also taken up. Through this process, 163 millet landraces have been identified. Out of which, 14 landraces have shown very good potential.
Four landraces namely Kundra Bati, Laxmipur Kalia, Malyabanta Mami and Gupteshwar Bharati, are being considered for release under Seed system for landraces.
The National Rural Livelihood Mission has also recently written to different state governments to also adopt the process of crop diversity blocks and mapping of landrace approaches to their mission. National Rainfed Area Authority, Ministry of Agriculture & Farmers' Welfare, Government of India is also keen to collaborate and learn from the Odisha Millets Mission.
The Government of Odisha launched Odisha Millets Mission (OMM) in 2017 to revive millets in farms and plates for a period of 5 years. It was further extended till 2026-27 by the Cabinet of Odisha in 2022. Odisha is home to 62 tribal communities. Tribal communities have a rich tradition of conserving local varieties of millets. Tribal farmers of Odisha have been custodians of different millet varieties from time immemorial.