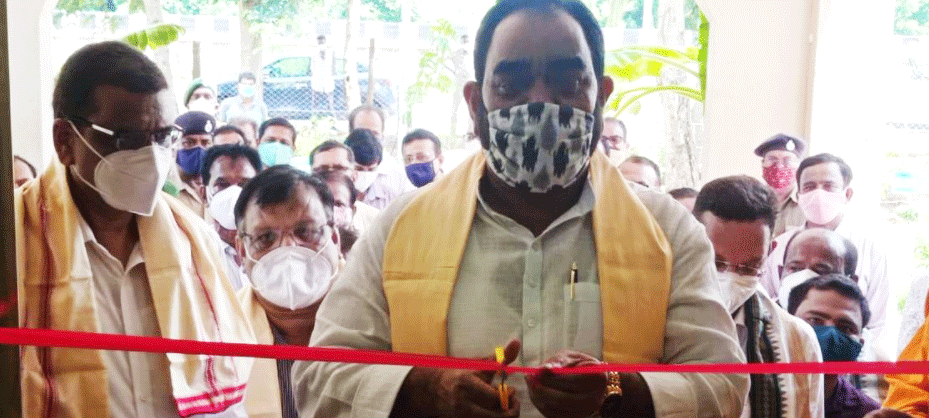 Berhampur: Odisha Government's Major PSU, Odisha Forest Development Corporation (OFDC) will take up plantation in a big way to add greenery in the State. The flagship Corporation is on the forefront for such activities.
Minister Forest and Environment, Bikram Kesari Arukha has said this while inaugurating new Office Complex of OFDC here at Berhampur.
A day before the Bahuda Jatra, Minister Mr.Arukha inaugurated the Office Building of Berhampur General Manager and Divisional Manager of the Corporation.
OFDC Managing Director Rajiv Kumar graced the occasion.
Among others, General Manager (Berhampur) Prashant Kumar Mishra and Berhampur Commercial Divisional Manager Dillip Kumar Rout, Boudh DFO, Berhampur DFO and senior forest officials also attended the event.
The Berhampur Division of OFDC was established in 1977 and there was a need for a new and separate office building, Mr.Arukha said.
With the inauguration of the new office building, the afforestation works in Ganjam and Gajapati districts will be expedited.
Moreover, Raghunathpur, Khalikote, Mohana and Berhampur sub-divisions will immensely benefit from this, he said.
In the aftermath of cyclone Phailin, the Berhampur division had undertaken massive plantation drives and received praise from various quarters, the Minister stated.
In fact, OFDC had been on the forefront to clear roads as Severe Cyclonic Storm, Phailin hit the State.
OFDC also took up clearance of uprooted trees due to Very Severe Cyclone Titli and Fani.
Chief Minister Naveen Patnaik had also lauded the efforts of OFDC in this regard.
Minister hoped that the officials of the division would conduct a lot of plantation drives in Ganjam and Gajapati districts, and create records.
The valuable forest products including woods can be auctioned through e-tender, management of bamboo depots, forest development works, etc can be managed properly, he added.
OFDC MD Rajiv Kumar said the office building was constructed with an investment of Rs 1.36 crore.
Mr.Kumar has been making all out efforts to complete the Office Complex in a time bound manner and was coordinating the infrastructure development process, said an official.
The Minister has also planted a sapling in the new office premises on this occasion, said a senior official of OFDC.