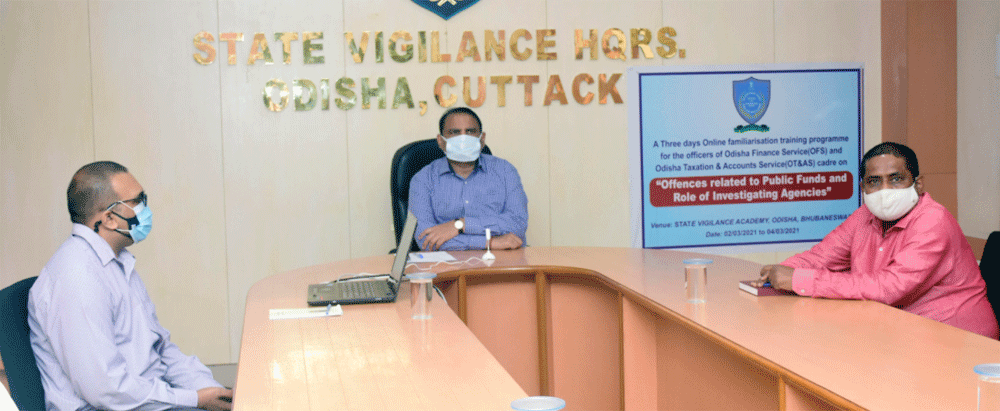 Bhubaneswar: A three days online training program on "Offences related to Public Funds and Role of Investigating Agencies" was held at State Vigilance Academy, Bhubaneswar from 2-4 March, 2021.

The training program was inaugurated on virtual mode by Dr. Debasis Panigrahi, Director, Vigilance, Odisha. 
Ghanshyam Upadhyay, IG of Police, Vigilance & Director, State Vigilance Academy, Bhubaneswar oversaw the conduct of the entire programme.
Sixty-four officers including officers posted in various Government Departments, Directorates and Heads of Departments, CT&GST officers, Treasury Officers and Finance officers posted in Vigilance attended the training programme.
The officers were given training input on economic offences, financial fraud and forgery cases, measures to eradicate corruption and pilferage in developmental and welfare schemes, guidelines for procurement of goods and services, Government e-Market Place (Gem), purchase formalities, audit, forensic audit, preventive Vigilance, irregularities in spending of public funds, OPWD Code and Tender Process, Guidelines on e-Tendering/e-Procurement, Public Procurement and Competition Law, Provisions of Prevention of Corruption Act and Money Laundering Act etc.
The training sessions were conducted by expert resource persons drawn from State and Central Government including SP, CBI (Economic Offence Wing), Deputy Accountant General, AG (General and Social Sector Audit), Deputy Director, Enforcement Directorate etc.
The State Vigilance Academy was established in November, 2018 and has so far conducted 34 training programmes / workshops for more than 700 officers. The Academy has also been conducting Internship Programmes for Law students.
The Academy has been awarded with the prestigious ISO9001:2015 certification, certifying its quality of anti-corruption training courses and infrastructure. The website of the State Vigilance Academy can be accessed at http://sva.odisha.gov.in.
The State Vigilance Academy was initially imparting training to Vigilance officers, Prosecutors and Counsels and Chief Vigilance Officers of various Departments, Heads of Departments, State Public Sector Undertakings etc.
However, its mandate has been substantially increased, as Government have accorded in-principle approval for conducting anti-corruption training programmes for members of All India Services namely Indian Administrative Service (IAS), Indian Police Service (IPS) and Indian Forest Service (IFS) and for officers of Odisha Administrative Service (OAS), Odisha Police Service (OPS), Odisha Finance Service (OFS), Odisha Co-operative Service (OCS), Odisha Revenue Service (ORS), Odisha Taxation & Accounts Service (OT&AS), Odisha Forest Service (OFS), Odisha Welfare Service (OWS) and Odisha State Prosecution Service (OSPS).
Government have also approved conduct of periodic familiarization and orientation trainings for Police officers of the rank of SI, Inspector and DSP at the State Vigilance Academy.
The training programme for other services commenced with the instant anti-corruption training programme for OFS and OT&AS officers and further such programmes will be conducted for other services also during the course of the year.