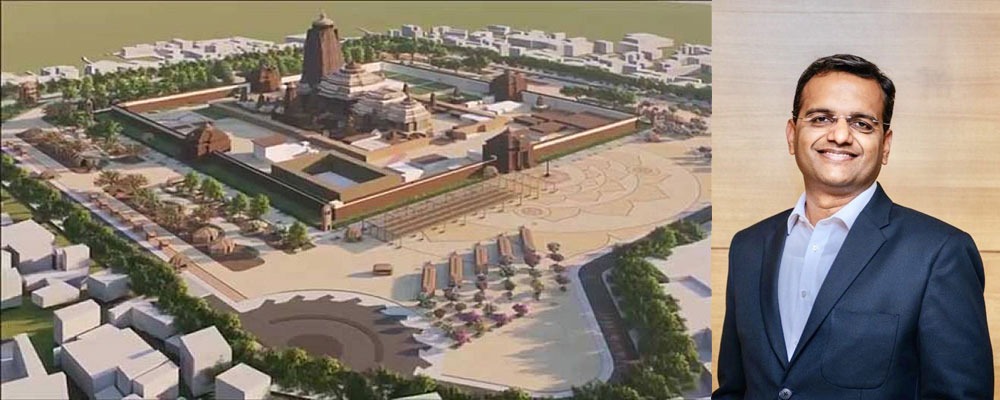 Puri: Bhumi Pujan for construction of Shreemandir Parikrama Prakalpa (Heritage Corridor Project) around the temple will be held on 24 November.
Dr.Krishan Kumar, Chief Administrator Shree Jagannath Temple Administration (SJTA) is on his toe and making elaborate arrangements for the long awaited Ceremony.
Dr.Kumar, a devoted devotee of Lord Jagannath is coordinating all the arrangements. District Administration is fully geared up for the occasion.
While Purna Ahuti of the ongoing three day Yajna at the North corner of the temple by Sotriya Brahmins will be performed tomorrow.
Chief Minister, Naveen Patnaik, Puri King Gajapati Dibyasingha Deb, Puri Sankaracharya, Ministers and other dignitaries will grace the occasion.
After performing Guateka Niti at Puri King's Srinahar on November 21 evening, while Panchakarma, Brahmin Baran, Surjya Puja, Dwarapala Puja, Sala Prabesh and Sala Debata performed on November 22 morning. Later, the Yajna was started at 2.30 pm and the Puspanjali was done at 5.30 pm to 6 pm yesterday.
Today, Surya Puja, Sala Puja, Agni Puja and many other rituals are being performed. Surjya Puja, Agni Puja and Yajna Bidhi will be performed tomorrow early morning. At 9.45 to 10 AM, Sila Bije Niti will be performed while Sila Stapan and Puspanjali will be performed between 10.15 AM to 10. 30 AM, he said, adding after that Purna Aahuti of Yajna will be done.
During this auspicious occasion, the persons who have handed over their land for the development of the Temple will be felicitated, the Media Advisor said.
The road leading to Srimandir from Hospital square will be barricaded from 6 AM to 1 PM on Wednesday, while all shops enroute will remain closed. The Municipality personnel carried out a drive to apprise the local traders about the decision to close shops for 7 hours.
Three Additional SPs, 10 DSPs, 40 Inspectors, over 100 ASIs will lead a force of 25 platoons for security, said Puri SP, Kanwar Vishal Singh.
Under this project, a green corridor will be established around the Jagannath temple and the surroundings will be beautified. The temple will be open for devotees who will need to access the Simhadwara or East Gate as entrance and exit during the foundation laying event.
Ahead of the Chief Minister's visit to Puri, Chief Secretary Suresh Chandra Mahapatra and Secretary to CM (5T) VK Pandian visited Puri on November 22 to check the arrangements.

Chief Administrator of SJTA Dr.Krishan Kumar and Puri Collector Samarth Verma were also present on this occasion.
Parikrama, a sprawling seven lane separate pathway for devotees and deities to have a green corridor around the Meghanad prachir of Srimandir, said a senior officer.
The Parikrama will have a reception hall to accommodate six thousand devotees. It will have a huge clock room (500 sq.metres) for devotees to keep their belongings.
Separate toilets complexes for servitors, men and women devotees will be constructed. Apart from these ATM counters, pilgrim information counters, police posts to provide security to pilgrims and first aid centres will operate at all the temple gates.
A miniature model of the Parikrama project will be put on display for devotees. On the occasion land owners and Mahantas who have given their land for the heritage corridor and parikrama project will be felicitated by the chief minister.
Mutt buildings and other religious places adjoining Parikrama will be given a face lift and developed. The cost of the project has been estimated at Rs.331.28 crore. The TATA project has been entrusted to execute the project within 18 months, officials said.