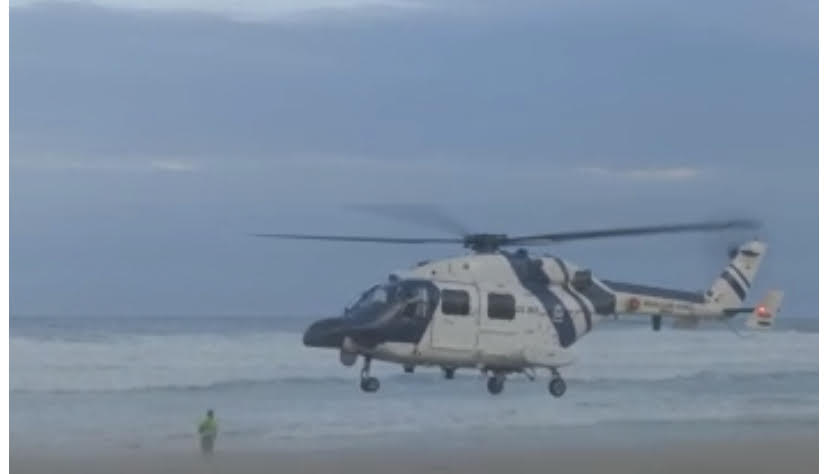 Gopalpur: Indian Coast Guard in coordination with State Government has successfully airlifted 11 fishermen stranded in Bay of Bengal near Pati-Sonapur of Ganjam district amid the rough sea conditions due to approaching cyclone Asani.
This is the first such airlift operation conducted in the State, sources said.
"As soon as we received information about the fishermen, we engaged the Coast Guard in operation within 20 minutes, and all 11 fishermen were rescued safely from the deep sea," Special Relief Commissioner Pradeep Jena said here on Monday evening.
DG Fire Services Santosh Upadhyay coordinated with Coast Guard authorities and they handled the operation efficiently.
Mr.Upadhyay lauded efforts of DIG Coast Guard and Team Coast Guard.
Berhampur Sub-Collector Keerthi Vasan V, who closely monitored the operation, said the 11 fishermen have gone to Andhra Pradesh to buy a fishing boat. While returning, as the sea condition became very rough, they were unable to return to the coast and got stuck around 4/5 km deep in the sea, he said.
As a mobile network was there, the fishermen were informed by their relatives about their condition. First the local fishermen tried to rescue them. However, they failed due to high tide in the sea.
"We got information about the incident at about 2.30 PM. Soon after that I informed this to the SRC, who swung into action and engaged the Coast Guard in the operation," he said.
First, they tried to conduct the rescue operation by sea. Due to the very rough condition of the sea, they were unable to carry out the operation. Later, SRC has asked the Indian Coast Guard to deploy a helicopter on the operation. At around 5 PM, the helicopter reached there and carried out the operation within an hour, informed the Sub-Collector.
All the rescued fishermen have been sent to local hospitals for necessary health check-ups, he added.