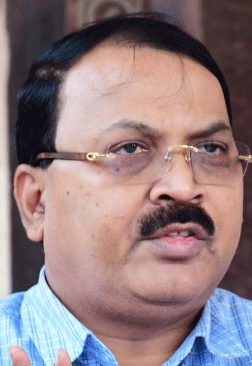 Bhubaneswar: With the IMD's warning for heatwave in many places across the State for next four to five days, Special Relief Commissioner (SRC) and Additional Chief Secretary Revenue & Disaster Management, Satyabrata Sahu held a meeting to review the prevailing situation and preparedness made to
SRC & ACS Shri Sahu asked concerned departments to take necessary steps to mitigate the heatwave condition.
Drinking water centres will be opened at different public gathering places in urban and rural areas.
"Paniya Jala Seva Kendras" (Drinking Water Kiosks) are required to be opened by Urban Local Bodies/ Gram Panchayats at market places, bus stands and other congregation points, Shri Sahu told officials.
He also directed to engage tanks to supply drinking water in the areas, where there is a shortage of water supply. Sahu has instructed to repair all tube-wells and pipes and provide drinking water and ORS to bus passengers.
The authorities were asked to store sufficient lifesaving medicines, saline, ORS in the dispensaries, PHCs, CHCs and subdivision/ District Headquarters Hospitals to meet the requirement.
Similarly, the construction and repair of shallow vats may also be ensured for roaming livestock, he directed.
In view of scorching heat, workers should not be engaged in any activity when the day temperature is very high, while steps must be taken to ensure uninterrupted power supply.
People have been advised not to venture out between 11 AM and 3 PM unless it is very urgent. They have been advised to carry water bottle, use sunglasses & umbrella and wear loose clothing to escape the wrath of heat.
Heatwave conditions continued to prevail across the state with mercury breaching 40 degrees Celsius mark at 16 places on Thursday.
Boudh and Jharsuguda were the hottest places in the state and recorded the day's highest maximum temperature of 43.4 degrees Celsius.
Sambalpur recorded a maximum temperature of 43.3 degrees Celsius, followed by Hirakud at 42.3 degrees, Sundergarh–42.1 degrees, Rourkela—42 degrees, Angul—41.7 degrees, Sonepur—41.3 degrees, Bolangir—41.2 degrees, and Titlagarh, Talcher, Nuapada—41 degrees each.
The other places that recorded 40 degrees Celsius or above are; Baripada (40.6), Bargarh (40.2), Nayagarh (40.2) and Malkangiri (40).
While Cuttack recorded a maximum day temperature of 38.5 degrees C, capital city Bhubaneswar remained a little cooler at 37.7 degrees.
Forecasting thunderstorms with lightning on Friday, the IMD has issued yellowed warnings for districts of Mayurbhanj, Balasore, Bhadrak, Kendrapara, Jagatsinghpur, Puri, Ganjam.
There will be no large change in maximum temperature during next three days. The day temperature will rise thereafter over the districts of Odisha, the IMD said.
Maximum temperature is likely to be 40 degrees and above at a few places over the districts of interior Odisha during next five days.
Hot and discomfort weather is very likely at a few places over the districts of Interior Odisha during next five days. People are advised to take precautionary measures while going outside.