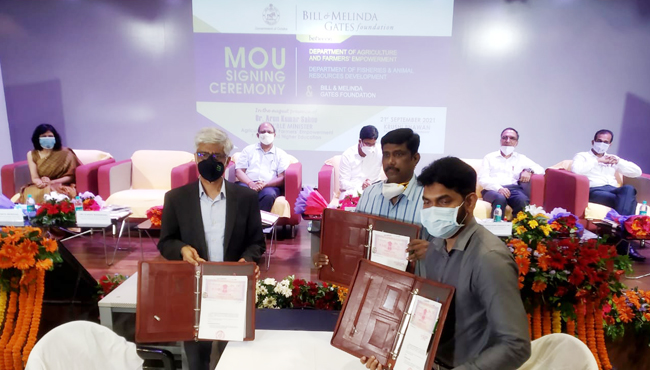 Bhubaneswar: The State Government on Tuesday signed an MoU with the Bill and Melinda Gates Foundation (BMGF) to provide technical support for sustainable and inclusive agriculture transformation in Odisha, an official said.
With this signing, the department envisages to strengthen its programmes by accessing expertise, technology and high-impact innovations.
The Foundation will provide the support to the department of Agriculture & Farmers' Empowerment and Fisheries & Animal Resources Development. This will improve the lives and livelihood of small and marginal farmers in the State, said the official.
Gates Foundation will also support accelerating data use and policy implementation to build a vibrant, climate-smart and integrated farming economy to serve marginal and landless farmers of the State.
Agriculture Minister Arun Kumar Sahoo, who is in-charge of both the departments, said, "Our government has adopted an integrated approach to manage farmland, livestock, forests and fisheries that address the interlinked challenges of food security and climate change.
Mr.Sahoo hoped the partnership with the Gates Foundation will bring in best global practices, state-of-the-art technology and innovations for the improvement, empowering the farmers with information and partnership services.
The State Government is supporting comprehensive socio-economic development of small-scale producers in the fisheries and animal resources sectors by programmes to grow incomes and improve animal health, he said.
Alkesh Wadhwani, Director, Bill & Melinda Gates Foundation, said that Gates Foundation is honored to continue strong collaboration with the Government of Odisha towards improving the livelihoods of smallholder producers.
The foundation has been working closely with the State government in developing data-based decision systems for agriculture, fisheries, and animal resources sectors; diversification to high-value crops; strengthening FPOs and shaping inclusive markets; digital extension; predictive technology, and integrated farming, he said.
With this MoU, the Foundation will catalyze and move forward multi-stakeholder partnerships and innovations that drive nutritional security, environmental sustainability, climate adaptation, and economic opportunity, in an integrated and inclusive way for smallholder agriculture.
It will continue supporting the Government by bringing solutions and expertise to address their most challenging issues, he assured.