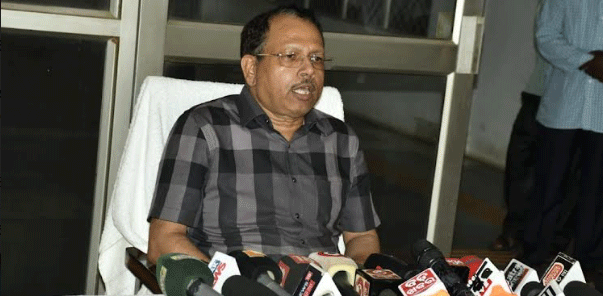 Bhubaneswar: Special Relief Commissioner PK Jena Thursday appealed to the people of the State not to panic over reports of possible cyclone as the State Government is ready to meet any situation.
He also urged the people not to resort to panic buying of essential commodities.
Mr.Jena said he has already written to the district magistrates of 18 district on Wednesday and discussed them telephonically about their preparedness for any eventuality.
The SRC said once the people resort to panic buying, unscrupulous traders will take advantage.
"We have reports that some unscrupulous traders have resorted to hiking prices of essential commodities and the State Government is taking necessary steps in this regard," he asserted.
Mr.Jena said so far there is no definite information about the cyclone. But the government is ready with all necessary measures.
"As of now, the picture is not clear, whether there will be a cyclone, will it impact Odisha, where and when will be the landfall, and what would be the intensity," he said
The SRC said that he has held a separate meeting with officials of NDRF, ODRAF and Odisha Fire Service today.
"There are 17 teams of the NDRF, 20 of ODRAF, and 175 Fire Service teams ready. These can be mobilised at any moment as per the need of the hours. The ODRAF teams can be further divided into 60 sub-units in case of any eventuality and requirement," he added.
In a meeting with Principal Secretaries of Energy, Housing and Urban Development, and Panchayati Raj & Drinking Water, the SRC advised laying priority on energy restoration and drinking water supply, in the aftermath of the possible event.
All the DISCOMs operating in Odisha have been asked to be on alert.
"We have seen summer cyclones in the past such as Fani, Amphan, and Yaas. These are one-day events when the markets remain closed. There will be no snapping of the supply chain lines. So, I urge all not to restrain from panic buying.
In a meeting with Municipal Commissioners and Collectors, the SRC instructed to take strict action against traders and businessmen who hoard essential commodities or sell those at abnormal rates.