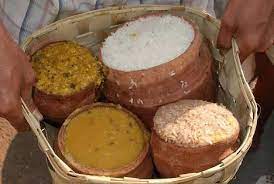 Puri: The Shree Jagannath Temple Administration (SJTA) has made all necessary arrangements for the smooth serving of Adapa  Abhada of Lord Jagannath and his siblings to the devotees.
Since devotees eagerly wait to feast on Adapa Abhada every year, the Temple Administration has made arrangements with Suar and Mahasuar servitors to ensure the availability of Adapa Abhada for devotees on payment.
For the distribution of Adapa Abada, two distribution centers have been set up on the Grand Road. One centre was opened at the bus stand and another near the North Gate of Shree Gundicha Temple, official sources said.
However, the devotees were not allowed to consume it but the take-away option was available for them. The devotees, who are deprived from participating in the annual Ratha Jatra, have expressed happiness after collecting the Adapa Abhada.
As per the rituals, the dishes that are made in the Srimandir are also made in the Shree Gundicha temple. The menu consists of arna or rice with varieties of dal, number of mixed vegetable dishes, different types of khata, and a number of desserts.
The holy siblings- Lord Jagannath, Lord Balabhadra and Devi Subhadra, entered the Adapa Mandap of the Shree Gundicha temple yesterday evening.
After a nine-day stay at the Shree Gundicha Temple, the Trinity's birthplace, they will return to the Shreemandir on the Bahuda Jatra day. All the rites and rituals of the Shreemandir are performed at the Shree Gundicha Temple during this period.
In view of the Covid-19 situation, the State Government, like last year, conducted the Ratha Jatra without participation of devotees. The Sevayats, who have tested Covid negative, have been allowed to perform the rituals and they pulled all three chariots. With the smooth arrangements of SJTA and Puri District Administration, the Shree Gundicha Jatra was completed peacefully.