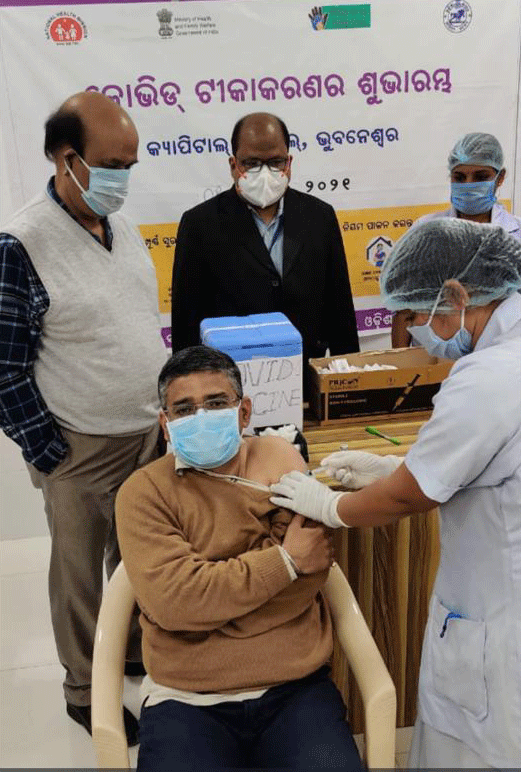 Bhubaneswar: ACS Health & Family Welfare Pradipta Kumar Mohapatra is a Brave Mandarin.
He is the First IAS Officer in Odisha to get inoculated COVID-19 Vaccine on Friday.
In fact, Mr.Mohapatra has a problem, like others he never fears and faces the problem directly. And he always leads from the front.
When he found some of the Health Care Workers (HCW)s are reluctant to take COVID-19 Vaccine, Top Mandarin volunteered to get vaccinated to prove a point that Vaccine is safe.
Mr.Mohapatra colly went to the Capital Hospital in the morning of 5 February and administered COVID-19 Vaccine.
He allayed apprehensions about the coronavirus vaccines and urged all HCWs to take Vaccine.
Mr.Mohaptra said Vaccines are completely safe and urged all to come forward to take both of the Doses when the turn comes to stay safe from Novel Corona Virus.
Odisha has joined Nationwide COVID-19 vaccination drive had commenced on 16 January.
Till date more than 2.34 Lakh HCWs have been vaccinated in Odisha, while target is to vaccinate 3.38 Lakh HCWs.
A Health Expert said that people must come forth to get vaccinated if they want Odisha to come out of the Covid-19 Pandemic, decrease the mortality rate, bring the economy back on track.