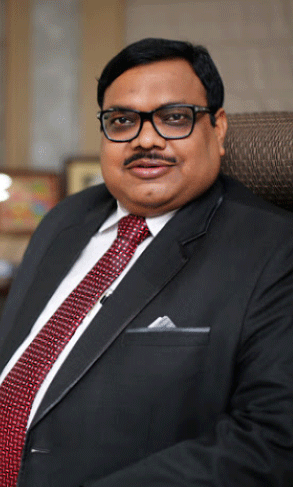 Bhubaneswar: As people know Manoranjan Mohapatra, for never saying "No" to anything in this world, appears to have also failed to refuse the Heavenly Call.
At an early age, Manoranjan made his journey to Heavenly Abode leaving many in tears. In life, he could not say no to anything and at the end also he failed to displease the killer "COVID-19" by refusing his call.
He was like a brother to one and all and never said 'NO' to anybody for any help one sought.
People, remember him as a loving, caring and helping person and never expects anything in return during his life time.
Full of positive energy, a great host, a large hearted person and passionate devotee of Lord Jagannath, Manoranjan despite best efforts and health care by the hospital authorities, passed away 10 days ago.
Always a humble person, Manoranjan all along his life never forgets to remember a little bit of help he received from anybody. He will always remember small helps and say it again and again that I am grateful to him as he did much help, when I was in dire straits.
He always said my father Sudarshan Mohapatra taught me how to live a 'Bindass' life, never bothered for anything and any adverse situation.
Manoranjan was always carefree and he loved family and friends as well as trusted his extended family, the Staff of Suyog Computech to the maximum extent.
Like a One Man Army, Manoranjan was leading Suyog Computech, a successful firm in IT Sector from the front and it was scaling new heights.
A top IT Honcho in Odisha, Manoranjan was really a great host, said a former STPI Director.
One day when he went to his office, foodie Manoranjan brought out two chicken rolls from the drawer of his table in his office and later presented him with a lot of delicious food items, which cannot be comprehended in office hours.
Treating people warmly was an open secret, he used to invite people for lunch, dinner and high tea and he loves to do this passionately, the officer said.
Anybody, who has enjoyed his grand hospitality, will never forget in his life time the ultimate level of warmth during the life time.
A great foodie, Manoranjan has been doing this for last 20 years so far my knowledge goes.
Always posing a smiling face with an approach to help people has been friend to people cutting across various fields of profession.
If anybody requests him for medical support, he used to rush to him like a 'Big Brother' and will go to any extent to provide maximum assistance, admit people, who have been benefitted through his generosity.
His love for Lord Jagannath is manifested by his love for distributing Mahaprasad to anybody and everybody, who ever requests him.
His first question will be "Bhai for how many 5-10-15 people are there in the family?
Come Ratha Jatra, he used to book at least 20 suites in Hotels, Niladri Bhakta Niwas and other places for families of friends and takes care of all their requirements including Darshan, Pahandi of Trinity, while providing security cover.
Every year he arranges Dahi Pakhal and array of Prasad items for at least 300 people inside Srimandir on Srigundicha Jatra.
Who Is Who of the State and even outside the State used to join in Prasad Sevan, which were presented with lot of love to them by Manoranjan.
Anybody asks for Shree Jagannath Darshan, he jumps to escort people and enjoys their company in the 12th Century shrine.
His love and trust for Shree Jagannath was unparalleled and for which on any auspicious day he was to be present in Srimandir to have Darshan of Trinity without any fail.
However, when Srimandir was made out of bound of devotees in Pandemic, he rued, but, never turned up to Puri for Darshan, while abiding COVID-19 Protocol, not even on Ratha Jatra, which he never misses in life time.
When Srimandir opened after the first wave of COVID-19, he invited each and every one to visit Trinity as he and his team of IT professional was facilitating the Darshan with the support of Shree Jagannath Temple Administration.
One of the most successful entrepreneurs in the Electronics and Information Technology Sector, Manoranjan recently opened an office in USA. Earlier he was having an office in UK.
Thanks to his overdrive Suyog Computech received large number of awards from both State and Union Government.
He was really special for which many are mourning for him on his 10th day of demise.
Fondly remembering him, a Principal Secretary said "He was brother to all and will remain in our hearts for all time to come".
Manu was really 'Special', who always tends me to put me first and above all he was a great friend of my youngest brother, Rama, whom we lost due to Covid.
The way he cried for Rama, while he was in ICU trying hard to come out of tentacles of Covid, received the shock of life as he lost a noble friend.
He never came out of shock! Really A great Noble soul!
Me and my family members will always remember Manu as a 'Bindass Brother'