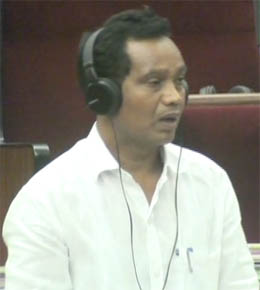 Bhubaneswar: The State Government has filed 966 encroachment cases to identify the people who encroached 613.417 acres of  Shree Jagannath Temple land, Law Minister Jagannath Saraka told Odisha Legislative Assembly on Saturday.
The cases were filed by the concerned tehsildar to bring back the temple land under section 16-A (1) of the Shree Jagannath Temple Act-1955.
Of which, with the joint effort of Khurda district administration and Sri Jagannath Temple Administration (SJTA), 448.406 acres of temple land located in four Mouzas of Khurda district have been brought to the record of Jagannath Temple so far, he said.
Efforts are on to recover the remaining encroached land, the minister added.
Saraka further informed the House that around 60,822.195 acres of land in the name of Lord Jagannath, has been identified in different districts of Odisha and outside the State. Of which, 35,321.433 acres of land have been brought to the record of Jagannath Temple, he stated.
However, he said, the exact value of the total land was not estimated as the lands are available in different cities and places of several states.
In another written reply, the Law Minister said the deity has 60,426.943 acres of land in 24 districts of Odisha while a total of 395.252 acres of land of the Lord have been identified in six other States.
According to sources, 322.930 acres of land are there in West Bengal, 17.020 acres in Andhra Pradesh, 28.218 acres in Maharashtra, 25.110 acres in Madhya Pradesh, 0.274 acres in Bihar and 1.700 acres in Chhattisgarh.
The total earnings of Shree Jagannath Temple from its land holdings both inside and outside the State in the financial year 2021-22 was Rs 61,73,86,862, the Minister had said in the House last week.
While the earnings from land holdings inside the State during fiscal 2021-22 was 61,73,75,497, it was Rs 11,365 from land holdings outside the State.
Out of the total land available in Odisha, 343.656 acres have been sold and 765.5055 acres of land have been acquired for various projects and the proceeds so obtained have been deposited in the Shree Mandir fund, he stated.