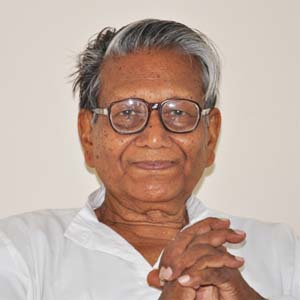 Bhubaneswar: Eminent Writer, Editor and Columnist Manoj Das breathed his last at a hospital in Puducherry today.
He was 87. Mr.Das had been under treatment at the nursing home at Sri Aurobindo Ashram in Puducherry due to old-age related ailments and breathed his last at 8.15 PM today, family sources said.
Born on February 27, 1934 in Shankari village in Balasore district, Mr.Das had carved a niche for himself in the field of literature over the past several decades. He wrote many short stories, novels and poems which have been highly appreciated by readers across the globe.
'The Escapist', 'Tandralokara Prahari', 'Aakashra Isara', 'Amruta Phala', 'A Tiger at Twilight', 'Bulldozers and Fables and Fantasies for Adults', 'Cyclones', 'Godhulira Bagha', 'Kanaka-Upatyakara Kahani' and 'Sesha Tantrikara Sandhanare' are some of the highly-appreciated works of the legendary writer.
He was honoured with the prestigious civilian award Padma Shri in 2001 and Padma Bhushan this year for his pioneering work in literature.
He was also awarded with Saraswati Samman, and Kendra Sahitya Akademi Fellowship.
Mr.Das, the bilingual Odia writer, edited The Heritage, published from Chennai in 1985-1989. He wrote columns in The Times of India, The Hindustan Times, The Hindu and The Statesman as well.
Mr.Das had been an inmate of Sri Aurobindo Ashram in Puducherry since 1963. He was teaching English Literature and the Philosophy of Sri Aurobindo at the Sri Aurobindo International University.
Odisha Governor Prof. Ganeshi Lal condoled the sad demise of legendary writer and thinker Manoj Das and conveyed his heartfelt sympathy to his family and readers. "He would continue to inspire generations through his timeless literary works", said the Governor.
Chief Minister Naveen Patnaik also condoled the death of Prof. Das. "Deeply saddened to know about the passing away of legendary litterateur Manoj Das. Mr.Das has left an indelible mark in the field of literature with his vast variety of immortal works and left a void which can never be filled. The demise of the literary doyen is an irreparable loss to the world of Odia and English literature. My thoughts and prayers with the bereaved family members, readers and followers," Mr.Patnaik's condolence message read.