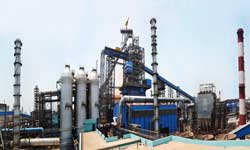 Bhubaneswar: As the Covid cases in Odisha rise day by day, the State Government has made necessary arrangements to ensure availability of all required logistics, medicine and oxygen.  
As medical oxygen was largely required during the second wave of the Covid-19 pandemic, the State Government has commissioned 70 of 82 Pressure swing adsorption (PSA) oxygen plants that have been commissioned while work in progress for the establishment of such plants in remaining places, officials said here Monday.
The State is also setting up 15 liquid medical oxygen (LMO) plants. Civil and electrical work for 14 LMO plants have been completed while the civil work at remaining Puri to be completed after ongoing work of approach road is over, the officials said.
LMO Vessels have already been installed at Capital Hospital while LMO Vessels at SCB and VIMSAR will be installed very soon. The Vessels at the remaining 12 hospitals will be done in phases by February, 2022.
The officials further informed that over 82,000 oxygen cylinders of capacity 347 MT and about 8,000 oxygen concentrators are available at all health facilities from primary to tertiary level.
The oxygen consumption rate during the peak of the second wave in Odisha was 69.78 MT per day. Keeping on that, the State has the capacity to produce 155.51 MT of medical oxygen per day through cylinders and 375 MT through LMO.
As many as 6,685 adult beds including 1,374 ICU/HDU beds and 624 ventilator bends have been kept on readiness for the adult population.
Similarly, 1179 Pediatric beds including 242 ICU/HDU beds and 110 ventilator bends have been made available in various healthcare facilities across the State.
The present trend shows that around 97% of the total patients in Odisha can be managed without actual hospitalization. Only 3% of the available beds, 11% of the ICUs and 3% of the ventilators are being used. The concerned officials have been directed to keep additional facilities in all readiness to be made available as and when required, they said.
Buffer stocking of all essential drugs have been ensured. All districts are now having adequate supply of drugs, logistics and consumables, the officials added.
To deal with the Omicron variant of Coronavirus, the State has enhanced its vigilance on preparedness measures and prompt actions are being taken for cluster containment and perimeter control.
The State Government has also enhanced surveillance on both international travellers and community of suspected cases and sustained testing.
Public awareness and community participation is also being encouraged to manage the emerging situation. Capacity building of doctors and health workforce is also being done on prevention and treatment modalities, they added.
The most important part is Covid vaccination of due beneficiaries, 15-18 age group along with precaution vaccination has been intensified in the State.
The State has started vaccination of booster or precautionary doses to health and frontline workers, and people aged 60 and above with comorbidities started on Monday.
As many as 17,52,838 people of the State are eligible to get the precautionary dose. The vaccination programme is going at 2,276 vaccination centres across the State, said State Director of Health and Family Welfare, Bijay Panigrahi.
A total vaccination programme is going on at 3,616 sites, of which 1340 are only for the vaccination of 15-18 years group, he said, adding, "We have enhanced the capacity of all vaccination centres for above 18 years by 20 per cent."
According to officials, 3,53,173 health care workers, 3,52,265 frontline workers and 10,47,400 persons aged 60 or above years with comorbidities are eligible to get the booster dose.