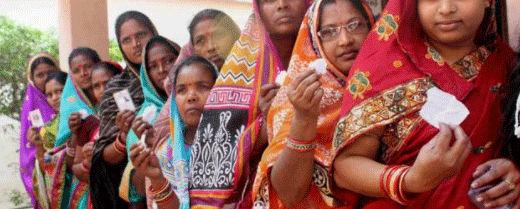 Bhubaneswar: Voting for the second phase of the Panchayat elections has ended in almost all places of the State amid tight security.
The polling began at 7 AM and will continue till 1 PM. Voters were seen standing in queues before polling booths to exercise their franchise. There was about 71 per cent polling recorded till 1 PM, as per preliminary reports. However, the final voting percentage will be known after receiving final reports from districts.
There was 77.2 per cent polling during the first phase of election in the State.
However, the election was disturbed in two booths of Jagatsinghpur as violence erupted in the boths.
Unidentified miscreants wielding sharp weapons allegedly looted ballot box from Barang block's Kurangapradhan Panchayat booth-11. Tension erupted in the region following the incident with locals staging dharna demanding re-poll.
As per reports, voters of two villages in Dhenkanal Sadar block have boycotted voting over their demands. While the voters of Durgaprasad refused to cast vote in the elections demanding revenue village status, the residents of Mahulapunji village boycotted the polls opposing setting up of poultry farms in their area.
Similarly, the voters at booth No-15 in Kuranga Sasan of Cuttack district also boycotted polling protesting detention of some people by police in connection with a case.
The voters of Baradajodi and Ladipadar villages under Tentulikhunti Panchayat of Nabarangpur district also decided to boycott the elections.
The voting was held for 186 Zilla Parishad seats, 1,514 Sarpanch seats and 20,436 Ward Members in 68 Blocks of the State.
The election was held peacefully in the disputed Kotia region of Koraput district. Security personnel were deployed in Kotia villages to instill confidence among the locals. Last year, Andhra Pradesh conducted Panchayat polls in six of the 21 villages of Kotia.