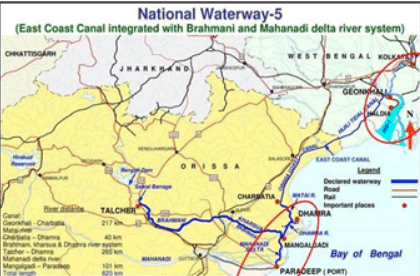 Bhubaneswar:The Government of India has made an expenditure of Rs 43.82 crore for development of National Waterway-5 that would connect the coal-belt of Talcher with Dhamra and Paradip ports besides facilitating transportation and tourism. 
The long stretches of Talcher-Dhamra of Brahmani-Kharsua-Dhamra river system, East Coast Canal, Matai River and Mahanadi Delta River System (588 KM) have been declared as National Waterway-5 in Odisha, official say.
According to official sources, a total of Rs 43.82 crore has been utilized in development of the waterway during the last five years, while another Rs 20 crore has been approved for another four years from 2022-23 to 2025-26.
While Rs 33.59 crore have been spent in the financial year 2017-18, Rs 2.23 crore, Rs 3.29 crore, Rs 2.13 crore and Rs 2.58 crore utilized in next four financial years.
As per Detailed Project Report (DPR), the project has been divided into stretches. Stretch-I: Paradip to Dhamra via Mangalgadi upto Pankapal: 212 KM (phase-I) and Stretch-II is Pankapal to Talchar: 120 KM (Phase-II).
In phase I, a link was to be established between the 67 km stretch from Mangalgadi to Paradip, 28 km from Mangalgadi to Dhamra and 117 km from Mangalgadi to Pankapal.
After the completion of first phase works, the 120 km stretch from Talcher to Pankapal was to be taken up in phase II. The 39 km connectivity from Dhamra to Charbatia and 217 km from Charbatia to Geonkhali were to be undertaken in the last phase.
Monthly longitudinal Thalweg survey for assessing depth and horizontal /vertical clearance for cross structures/bridges (212 km) has been completed.
Thalweg survey is Single lane longitudinal surveys carried out along the deepest channel for channel monitoring and demarcation on fortnight/ monthly basis.
Work has been initiated for preparation of Detailed Project Report (DPR) followed by Front End Engineering Design (FEED) for hydraulic interventions, modification of cross structures for navigational clearances, the sources said.
Navigation clearance below existing power lines from Dhamra/ Paradip to Pankapal on deposit basis through Government of Odisha is also nearing completion, they said.
Movement of Gypsum was started from IFFCO Riverine Jetty on NW-64 (Mahanadi) to Paradip Port (NW-5). Nearly 1,55,181 MT have been shipped till October 2022.
The waterway will clear the huge accumulation of (approx. 52 million MT) gypsum at the IFFCO plant.
Besides, a MoU was signed between Inland Waterways Authority of India (IWAI) and UltraTech cement for transport of the gypsum to its plants around Hooghly-Ganga River systems in West Bengal and Bihar.
Initially estimated to cost around Rs 4,209 crore, including Rs 1,843 crore for construction of barrages in rivers and Rs 1,273 crore for dredging of canals, the NW 5 now has been incorporated under the Prime Minister Gati Shakti Program.