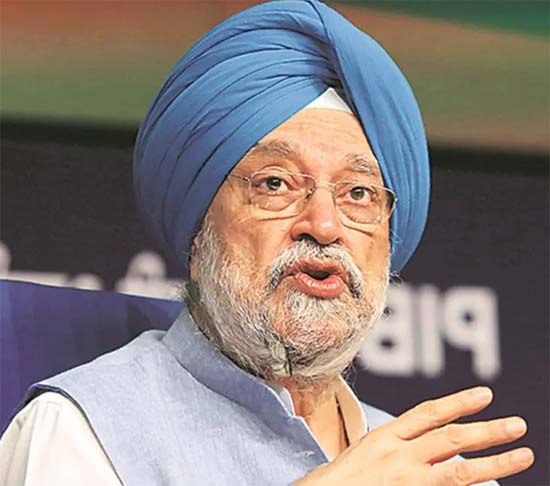 New Delhi: The Ministry of Housing and Urban Affairs has released funds to the tune of Rs 3823.76 crore under different urban development schemes during the last five years.
This was informed by Union Minister of Housing and Urban Affairs, Hardeep Singh Puri in Lok Sabha on Thursday.
Giving a written statement to a question of BJP MP Basant Panda, the Union Minister said urban development is a state subject. However, the Ministry of Housing and Urban Affairs facilitates and assists State Governments/ Administration of Union Territories in urban development through its flagship missions /schemes.
Accordingly, the Centre has released Rs 3823.76 crore to Odisha under Atal Mission for Rejuvenation and Urban Transformation (AMRUT), Pradhan Mantri Awas Yojana – Urban (PMAY-U), Smart Cities Mission (SCM), Swachh Bharat Mission-Urban (SBM-U) and Urban Transport (UT) and Deendayal Antyodaya Yojana-National Urban Livelihoods Mission (DAY-NULM).
Against the release of funds, the State Government has utilised Rs 3194.27 crore during the five years.
The Central Government has released Rs 757.46 crore under AMRUT to the State and the latter has fully utilised the fund. Again, under AMRUT 2.0, which was launched October 2021, the Centre has allocated Rs 144.44 crore to Odisha and the State has not utilised it so far.
Under AMRUT, the number of beneficiaries benefitted in the State under 24×7 water supply is 2.41 lakh and under sewerage and septage management is 4.14 lakh. The number of beneficiaries benefitted under green spaces and parks is 4.8 lakh so far, said Puri.
Similarly, the Ministry has given Rs 882 crore to the State Government under Smart Cities Mission during the period, of which the State has utilised Rs 776 crore. Notably, the Smart Cities Mission is being implemented in two cities of Odisha, Bhubaneswar, and Rourkela.
Under the SBM, the Union Government has allocated Rs 348.47 crore to Odisha and the expenditure stood at Rs 246.29 crore. The State Government has constructed 1,42,284 Individual Household Latrines under the scheme in all 30 districts of the State.
The Centre has allocated the highest amount of Rs 1610.28 crore to Odisha under the Pradhan Mantri Awas Yojana – Urban (PMAY-U) in the last five years. The State Government has spent Rs 1341.22 crore under this scheme. The State has constructed 2,13,846 houses under the PMAY-U scheme.
Moreover, Odisha has got Rs 81.11 crore from the Centre under DAY-NULM, of which Rs 73.30 crore has been already utilised. From 2017-18 to 2021-22, in Odisha, 627 urban poor have been imparted skill training to enhance their employability.
Loans with the provision of interest subvention have been disbursed to 25,165 beneficiaries for self-employment through individual or group microenterprises. 2,00,543 urban poor have been mobilized into SHGs under the scheme, informed the Union Minister.