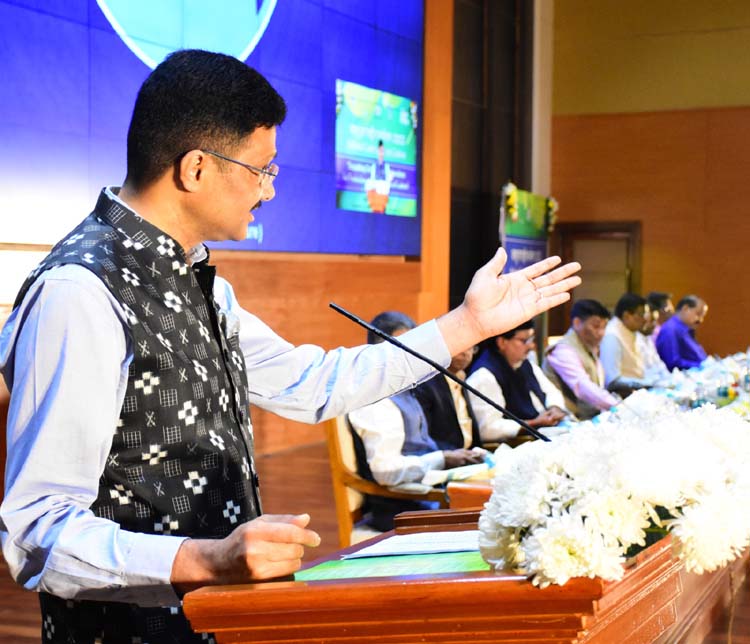 Bhubaneswar: Principal Secretary Agriculture and Farmers' Empowerment Arabinda Padhee said the weather and soil conditions of Odisha is extremely favourable for cashew farming. "This year more than 20,000 hectare of new land area will be brought under cashew farming," he announced.
More steps are being taken to improve production and productivity of cashew in the state with application of innovations in this field," Dr.Padhee said while addressing National Conference on Cashew. He said that underdeveloped districts and tribal areas will be on cashew farming.
More than 250 delegates from 19 states consisting of Cashew Farmers, Processors, exporters, Scientists from research organizations, Experts, Development department officials, Field level implementing agencies and officials of Odisha State Cashew Development Corporation participated in this National Conference.
The cashew is being cultivated in 19 states with a total area of 11.65 lakh ha with a total production of 7.50 lakh MT, wherein there are more than 4000 processing industries existing under organized and unorganized sector will require 17 lakh MT of raw nuts. At present, the total quantity of more than 9.00 lakh MT is imported from east and west African countries and resulted in spending more than Rs.9000 Cr. per annum.
In this 2-day conference all the aspects of the cashew sector commencing from production of quality planting materials, production technology, integrated pest and disease management, post-harvest management, value addition, processing, packaging and marketing will be discussed by way of presentation by the experts and detailed deliberation.
The Union Ministry of Agriculture and Farmers Welfare will prepare the Road Map for Cashew development for overall development of Cashew in the country by incorporating the innovative ideas emanated in the Conference.The Ministry of Agriculture and Farmers Welfare is contemplating achieving self-sufficiency in cashew production by 2029-30 to meet the requirement of domestic industries and also reduce the import of raw nuts from East and West African countries