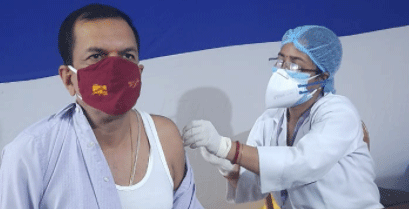 Bhubaneswar: DG Prisons Santosh Upadhyaya took the COVID-19 Vaccination along with other senior officials of Prison Administration.
After taking Jab, Mr.Upadhyaya said it is pain less and safe to have COVID-19 Vaccine.
As the Front Line Workers are taking interest in COVID-19 Vaccination more number of FLWs are receiving jabs.
Odisha has crossed vaccination of nearly 3.5 Lakh beneficiaries, which include Health Care Workers (HCW) s and Front-Line Workers (FLW) s on Tuesday.
As on 9 February, a total 3,42, 254 beneficiaries have been vaccinated across the State.
ACS Health & Family Welfare, Pradipta Kumar Mohapatra reviewed progress on 9 February evening.
With a total 256 Sites, 26,529 beneficiaries were vaccinated, which was nearly Percent of the Target.
Detailed Review revealed that 5322 HCWs, which was over 86.2 Percent of the target and 21,207 FLWs, which was nearly 91.8 Percent of the target were vaccinated.
Out of 256 sites, 61 sessions were conducted for HCWs out of which 02 are COVAXIN.
Similarly 195 sessions were conducted for FLW out of which 10 are COVAXIN.
While target is there to cover 3,38,700 HCWs, on 9 February, 2, 26,529 HCWs were vaccinated in the State. Achievement is 79.5 Percent.
As on date 72,868 FLWs were vaccinated and activities reported are very encouraging.