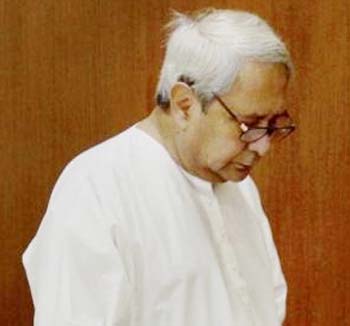 Bhubaneswar: Chief Minister Naveen Patnaik said that getting investment to a state is a reflection of the law-and-order situation in the state. No investment comes when the Law-and-order situation is poor in a state. Odisha gets one of the highest investments in the country.
Replying to the discussion on Annual Budget for Department of Home in State Assembly he said that due to better law and order situation, State has record industrial production year after year or record agriculture production year after year.
He said that transport and major logistical movements is also an indicator of law-and-order situation. Our Railways makes one of the highest profits in the country and there is absolutely no problem in the transport situation in the state.
Conduct of major Events is also a sign of better law and order situation. Whether it is Hockey World Cup, Ratha Jatra, elections or examinations, we have not had any dislocation in any of these events because of law- and-order situation.
Specific issues like communal harmony, left-wing, extremism or labour related issues, Odisha has been the best in handling all these issues.
Growth and revenue generation are directly proportional to the law-and-order situation of the state. State is recording highest growth rates on a continuous basis and State's revenue generation is increasing year after year.
Odisha is progressing because it's a peaceful state. People are peace loving and he is proud of the people of Odisha.
By accusing the state as Lawless Opposition is insulting the people of the state and doing injustice to the peace loving people of Odisha.
In the tragic case of the murder of Naba Kishore Das, the only statement made so far is by me in front of this August House.
No police officer or any other authority has briefed anyone including the media on the sensitive case so far.
The investigation is still under progress and within the time frame given by law for filing of charge sheet and the same would be done.
Where did opposition find this point about the State Government saying that the accused person is mad or government trying to show that the accused person is mad?
The entire investigation is being monitored by a retired High Court judge appointed by the High Court itself.
Even then, the opposition is accusing the State Government of hiding something in the investigation. This is deplorable and smacks of political opportunism.
Police Stations are at the cutting-edge level in the delivery of police services to the citizens. State Government is committed to further improve the functioning of the Police Stations in the state. Recently, Aska Police Station in Ganjam district has been adjudged as the best police station in India for the year 2022 which is a moment of great pride and honour for all of us.
In order to augment the capacity of the State Police, 36 Police stations were recently created / upgraded. About 2200 Police Posts under various ranks have been recently created for further strengthening of Police Force. At present recruitment process is going on to fill up more than 6500 posts in Police, Prisons and Fire service.
Odisha Police has been regularly taking feedback from the public about transparency and quality of police services under "Mo Sarkar". The response from public has generally been very good.
5-T and Mo Sarkar initiatives launched by the State Government are such initiatives. It envisages transformative governance for better delivery of public services.
Keeping that in mind, under Mo Sarkar, we constantly take feedback from the Citizens. This is to inform the House that more than one crore calls have been made so far and actions have been taken for grievance redressal and institutional transformation.
To ensure timely and hassle-free delivery of public services, 566 services have been made online.
State Government is persistently endeavoring to provide employment to maximum number of youths of the State. Recruitment examinations are conducted regularly. During 2022-23, more than 8000 candidates have been recommended by the OPSC, OSSC and OSSSC.
During the year 2022, the State Vigilance continued its drive against corruption by public servants with very good results. It has registered 287 criminal cases against 557 persons including 60 Class-I Officers.