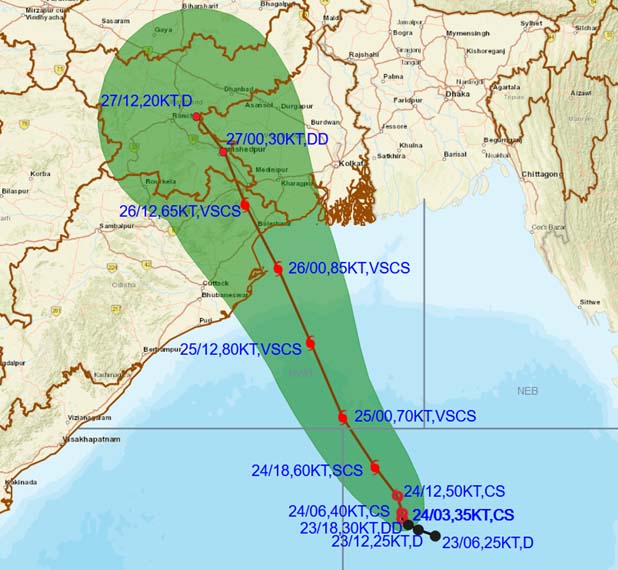 Bhubaneswar: Cyclonic storm 'Yaas', which lay centered about 530 km south-southeast of Paradip on Monday, will move in a north-northwesterly direction and cross the Odisha coast somewhere between Rajnagar in Kendrapara district and Baliapal in Balasore district in the forenoon of May 26, according to the Centre for Environment and Climate (CEC), Siksha 'O' Anusandhan here.
While crossing the coast, the wind speed would be between 80 to 100 km per hour gusting to 120 km per hour, Dr. Sarat Chandra Sahu, Director of CEC, said.
There was, however, the probability that this wind speed could be little less as most of the meteorological parameters such as upper atmosphere outflow and wind shear (difference in wind speed between 1.5 km to 12 km height from the surface) were not supporting intensification of the system, Dr. Sahu said.
Latest analysis showed that the system would be located about 140 km  from Paradip at 5.30 pm on Tuesday and lay close to Rajnagar in Kendrapara district  early on the morning of May 26 before crossing the Odisha coast near Chandbali or its neighbourhood and the wind flow would continue till May 26 night, he said.
Model products were changing from hour to hour making it difficult to predict the cyclone track, he said.
However, the point of landfall could change based on actual data, he said adding wind speed reaching 35 km to 50 m per hour, would continue from Monday afternoon off and along the coastal belt. The wind speed would increase in Jagatsinghpur on Tuesday morning while the wind speed would rise in Kendrapara, Bhadrak and Balasore districts in the afternoon and continue till May 26. Once a cyclone moved ahead, the wind speed in the rear side would decrease, he said.
Light to moderate rain would continue from Monday afternoon till Tuesday forenoon followed by heavy rainfall in the districts of Kendrapara, Cuttack, Bhadrak, Balasore, Jajpur, Mayurbhanj, Dhenkanal and Keonjhar till Thursday afternoon.
"Zonal wind from west to east is very strong and it will have effect over Bangladesh and eastern West Bengal upto 25th evening but Odisha's Balasore and Mayurbhanj districts from the night of May 25 as the earth moves from west to east," he said adding this wind became stronger when any cyclonic system formed.