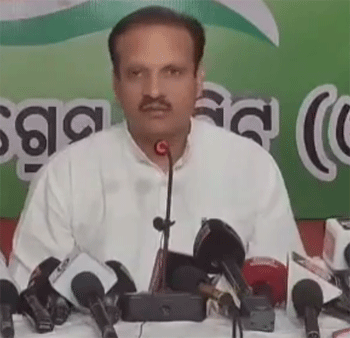 Bhubaneswar: Senior Congress leader and Rajya Sabha MP Neeraj Dangi on Monday alleged that the Prime Minister Narendra Modi Government's wrong economic policies were responsible for price rise and unemployment in India.
Addressing a Press Conference here, Mr.Dangi said there was a time when PM Narendra Modi dangled a dream in front of the people of India: a future free from inflation and unemployment. Instead, he has delivered a nightmare of record price rise and the highest joblessness in 45 years.
PM Mr.Modi has not just failed to control price rise since coming to power in 2014, his misguided policies and deceitfulness have in fact exacerbated the suffering of the people.
The PM boasted to voters in 2019 how essential items like food grains, curd, lassi and buttermilk were GST-free but in 2022, he imposed GST on those very goods.
The price of a LPG cylinder was Rs 410 in 2014. However, now the price of LPG increased by 156 per cent to Rs1,053-1,240 per cylinder. Similarly, the price of petrol and diesel has been increased by 40 per cent and 75 per cent during the Modi Government, he stated.
Mr.Modi used the Ujjwala Yojana to win votes in 2019 elections but soon after, he cold-heartedly eliminated cooking gas subsidies. The price of LPG has more than doubled to over Rs 1,053-1,240 per cylinder and lakhs of consumers can no longer afford to refill their empty gas cylinders, said the Congress leader.
These are just two of the many examples where the PM deceived the people of India to win votes and then stabbed them in the back in line with his "Doob Maro" philosophy, he said.
The Congress MP further said Modi Government's desperation to fill its coffers at all costs has led it to impose exorbitant fuel taxes that have further hurt Indian consumers' purchasing power.
The global prices of petrol, diesel and LPG were much higher in 2013-14 than in 2021-22 but consumers pay much more today for a litre of fuel or an LPG cylinder than they did during the rule of the UPA government, he added.
Mr.Dangi said International prices of Crude Oil and LPG are decreasing for the past few months but the benefit has not been passed on to the consumers, whereas this government never forgot to increase the prices of Petrol, Diesel and LPG as and when the international prices got increased.
The Modi Government's policy choices have resulted in drastic deterioration of the unemployment situation in the country. Demonetization and hasty GST implementation had already dealt a body blow to the economy, he alleged.
On top of this, the Modi Government is shutting down and privatizing PSUs and handing over prized national assets to its cronies. The Government's anti-youth policies have led to 10 lakh vacancies in central government, which is 24 percent of the total sanctioned posts, he alleged.
The poorly conceived Agnipath scheme is a fresh threat to the job prospects of our youth as well as to national security. Young men and women who dreamed of serving their country by joining the Armed Forces are being asked to do contractual jobs for 4 years, with no guarantee of pension or of security.
The consequences have been devastating, he said, adding, lakhs of youth have turned despondent and dropped out of the job market. Despite this exodus, 42 per cent of youth in the age group of 20 to 24 who are still looking for jobs are unemployed, forcing even PhD holders and postgraduates to apply for positions requiring much lower qualification, such as peon and others.
Stating the Indian National Congress stands with the people in these difficult times, the Rajya Sabha MP said, "From 'Sansad to Sadak', we have raised our voice against the incompetence and the misguided policies of Modi Government that have exacerbated price rise and joblessness in India."
Since June 2021, the Congress has organized seven nationwide protests and mass awakening programs. Subsequent to the nationwide demonstration against price rise on 5th August, the Congress party will hold a 'Mehangai Par Halla Bol' rally at the Ramlila Maidan in Delhi next Sunday, 4 September, 2022.
"We demand that the government fulfill its promise to curb inflation and generate jobs at the earliest. And we urge all citizens to join us in our efforts to pressurize the government to change its course from the anti-people and anti-youth path," he ended.