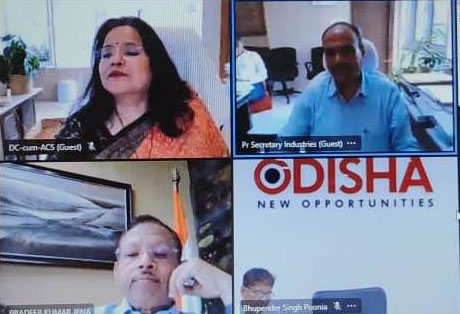 Bhubaneswar: The State Level Single Window Clearance Authority (SLSWCA) under the chairmanship of Chief Secretary Pradeep Kumar Jena today approved 19 investment projects worth Rs 3,663 crores. 
These projects are set to generate employment for approximately 13,663 individuals, reflecting the State's unwavering commitment to job creation and sustainable development.
The EPIC Group, an apparel manufacturer based in Hong Kong renowned for serving some of the world's leading brands, is poised to bolster foreign direct investment (FDI) in Odisha.
Trimetro Garments India Pvt. Ltd. a subsidiary of the EPIC Group, is planning to invest Rs 376.85 crores in the establishment of its apparel manufacturing facility, consequently generating employment for 7,050 individuals in Khordha.
Time Technoplast Limited and Oricon Enterprise Limited are set to enhance the plastic sector with their manufacturing units in Khordha, with investments of Rs 57 crore and Rs 90 crores, respectively.
The steel sector has experienced significant growth due to investments from several companies, including Nezone Steel Utkal LLP, Advance Steel Tubes Limited, Nirmal Steels Private Limited, Rungta Mines Limited, Ferro Tech India Private Limited, and Super Sonic Logistics Private Limited. Collectively, these companies have proposed to invest over Rs 2,000 crores in regions such as Kalinganagar, Dhenkanal, and Sundergarh.
Notably, Nezone Steel Utkal LLP is expanding its manufacturing capacity with the establishment of their second unit.
In the renewable energy sector, Mahanadi Coalfields Limited (MCL), and Odisha Power Generation Corporation Limited (OPGCL) are launching solar power plants with investments of Rs 297.61 crore and Rs 215 crore, respectively.
The Agro and Food Processing sectors are poised to benefit from its homegrown companies, such as Pragati Milk Products Pvt. Ltd.'s ice-cream and baked product manufacturing plant in Chandanpur and Coastal Biotech Private Limited's modern rice mill in Paralakhemundi,
Infrastructure projects of Koli Commercial LLP and Vimla Infrastructure (India) Pvt Ltd, both establishing Private Freight Terminals under the Gati Shakti Multi-Modal Terminal scheme, have been approved by the government today.
Krupalu Kunja is setting up a compressed bio sas and fermented organic manure plant in Jajpur with annual capacity 46,000 MT with an investment of Rs 73.25 crore and an employment potential of 138.
Odisha's Tourism sector is set to shine brighter with Mayfair Hotels & Resorts Ltd's Convention Centre in Paradeep, Jagatsinghpur, which is expanding its capacity by 20 rooms.