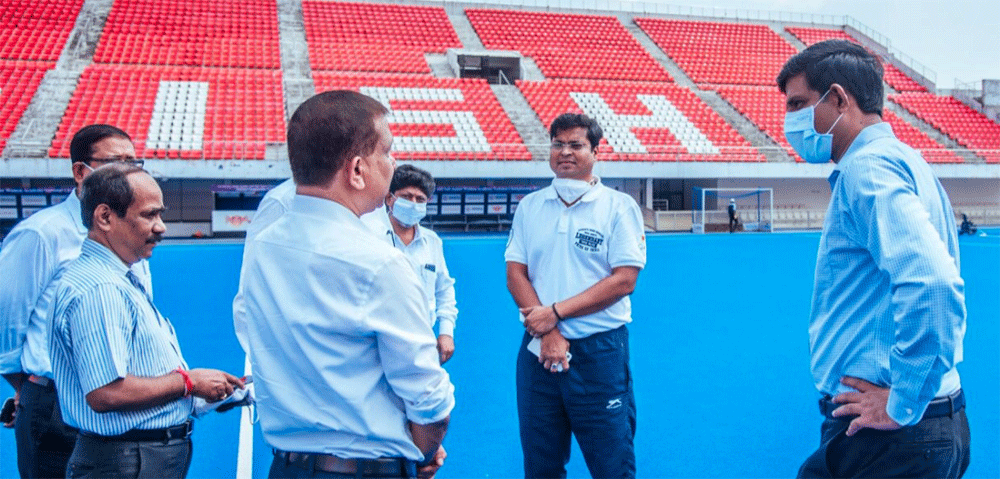 Bhubaneswar: Subrata  Biswas , Additional Chief Secretary Youth Services and Sports of West Bengal Government has appreciated the giant efforts of the Odisha Government in building World Class Sports Infrastructure across the state.
A high level delegation of Government of West Bengal led by Mr. Biswas, visited Kalinga Stadium Complex on 7 October to study the sports ecosystem in Odisha.
The delegation, which comprised of officers from the Department of Youth Services and Sports and Public Works Department, were particularly interested to learn about the Hockey infrastructure set-up in the State, particularly the Kalinga Hockey Stadium in Bhubaneswar and Birsa Munda International Hockey Stadium, Rourkela.
The delegation was received by Dilip Tirkey, Chairman, Odisha Hockey Promotion Council, R Vineel Krishna, Secretary Sports and Youth Services, Rajiv Seth, Project Director, Odisha Naval Tata Hockey High Performance Centre, and senior officials of the Department of Sports and Youth Services.
The visit commenced with Secretary Sports and Youth Services, R Vineel Krishna making a presentation on the rise of Sports in Odisha and different sports initiatives of the state to the delegation.
The delegation conducted a detailed recce of the facilities at the Kalinga Hockey Stadium and also visited the Odisha Naval Tata Hockey High Performance Centre that trains over 80 boy and girl cadets for the elite level and were taken through the set-up and operations by Rajiv Seth.
Thereafter the delegation, visited the sports science and rehabilitation centre – the Odisha Abhinav Bindra Targeting Performance Centre, where Centre Head Pradeep Pillay demonstrated the bio mechanics and the assessment techniques used to assist athletes to better their performance.
The delegation also visited the major ongoing sports infrastructure projects, namely the Indoor Athletics Stadium, Aquatic Complex, Badminton High Performance Centre and the Sports Science Centre.
The visit culminated with the delegation spending time at the Athletics High Performance Centre, 10m indoor Shooting Range and the newly renovated Biju Patnaik Swimming Pool.
The Additional Chief Secretary, Sports of West Bengal Government, was very much impressed with the pioneering work by Odisha in sports development. He showered particular praise on the giant strides made by the Govt. of Odisha in building world- class infrastructure across the State.