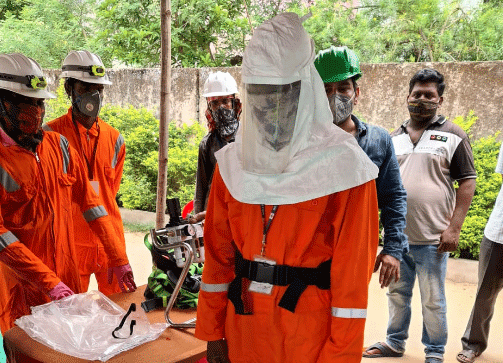 Bhubaneswar: Being first of its kind in the country, Scheme 'GARIMA' plans to provide a comprehensive package of service level benefits, social security and financial benefits to core sanitation workers and their families, thereby institutionalizing and regulating the delivery of sanitation services said Pradipta Kumar Swain, Managing Director, Water Corporation of Odisha (WATCO).
Accordingly, WATCO has successfully conducted a series of trainings for core sanitation workers and sanitation service providers under 'GARIMA' scheme in Bhubaneswar, Puri and Cuttack in a phased manner.
The programs were designed to train the participants on the use of various PPEs & Safety Devices that are required for cleaning & maintenance of sewer lines and septic tanks.
With an aim to ensure the safety and dignity of core sanitation workers, Chief Minister Naveen Patnaik launched the scheme 'GARIMA' on 11September 2020 benefitting around 20,000 sanitation workers and their families.
WATCO, being responsible for drinking water supply and sewerage related services in Bhubaneswar, Puri, Cuttack, Jatni, Khurda and Berhampur has been determined as the nodal agency for implementation of scheme 'Garima' in its existing divisions.
'We will complete the trainings for all registered core sanitation workers and sanitation service providers in Bhubaneswar, Puri and Cuttack soon and will extend to other cities to improve their skills on hassle free and safe sanitary cleaning' said
The trainings, conducted under strict adherence to COVID protocols, were delivered by experts from the field, who deal with manufacturing and supply of equipments that are designed to protect the workers from all kinds of hazards encountered during Confined Space Entry.
The trainings included live demonstrations on the use of each. The demonstration of these crucial equipments gave an assurance of safety to the workers and an understanding on the benefits of using them while conducting hazardous activities. The training programs were also used as a platform to sensitize the participants about the key features & benefits of GARIMA Scheme.