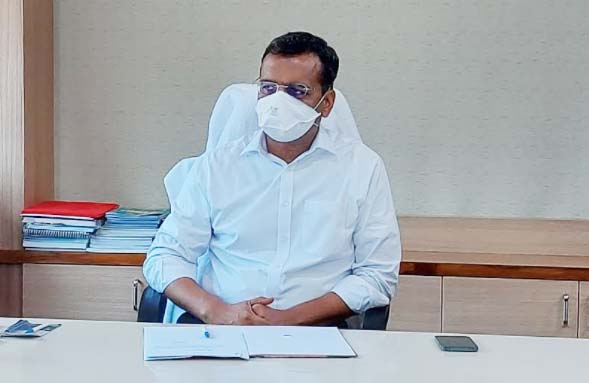 Puri: Following death of two of its employees, Shree Jagannatha Temple Administration (SJTA), Puri urged the State Government to declare its employees as Covid Warrior.
SJTA Chief Administrator Krishan Kumar has written a letter to Additional Chief Secretary, Health & Family Welfare, PK Mohapatra, in this regard.
The employees of Shree Jagannatha Temple Administration Puri are involved discharging various duties during this COVID-19 Pandemic includes taking care of the Covid positive persons in the Institutional Isolation Facility (IIF) at Nilachala Bhakta Nivas and assisting the Medical Teams in vaccination of sevayats & employees, Dr.Kumar said in his letter, said sources.
Besides, SJTA Chief said, the employees are continuously exposed to members of public while assisting performance of Nitis inside & outside the temple, looking after the boarding, lodging and accommodation of Rathakhala sevaks etc.
The Chief Administrator requested Mr.Mohapatra to declare all such officials of the Temple Administration as COVID Warriors for extension of benefits as deeded by State Government from time to time.
In his letter, Dr.Kumar also mentioned that two personnel of the Jagannatha Temple Police (JTP) of SJTA have already succumbed to complications out of Covid-19 so far. They are—JTP, Pruthimanyu Dash (58) and Charcha Amin, Pramod Kumar Dash (59).
Pruthimanyu was passed away enroute to a COVID hospital in Bhubaneswar from Puri on 21 April this year while Pramod died on 25 May at SUM Hospital here.
"The above two officials may be provided necessary financial assistance as per the same norms as being provided to other officials in similar circumstances," he added.
In view of prevailing COVID-19 situation, the Temple Administration has created a 'Bio-Bubble' at the chariot construction yard in Puri to provide protected environment to carpenters, Bhoi servitors and others working engaged for the job. The Rath Jatra is scheduled on 12 July.
As many as 88 persons including 40 carpenters, 31 Bhoi servitors, 13 Blacksmiths and four Temple officials are working at the yard since Akshaya Tritiya, 15 May.
Three Maharana servitors and five Bhoi servitors of the 88 servitors have tested Positive while constructing the three chariots on the Grand Road of Puri.
Earlier, Chief Minister Naveen Patnaik had directed to vaccinate all servitors of the Shree Jagannath Temple on a priority basis. More than 80 per cent of them have received at least first dose of Covishield vaccine so far, sources said.
According to the source, more than 280 servitors of the temple have infected with the COVID-19 during the Second Wave, of them 10 succumbed to the infection.
Over 200 servitors have recovered and the remaining are under treatment at a Health Care facility set up the SJTA.