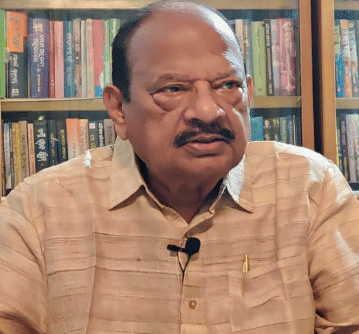 Bhubaneswar: Veteran Journalist, Author Basant Das is no more.
While fighting with Novel Corona Virus, he succumbed to virus at the age of 81.
He was under treatment in local COVID-19 Hospital here, said family sources.
He was botn on 2 January, 1940 in Maindipur village under Biridi block of Jagatsinhgpur district.
He moved to Cuttack after his primary education and completed his matriculation from Peary Mohan Academy and BA from Christ College.
After completion of Post Graduation (PG) in Political Science from Utkal University in Bhubaneswar, later pursued LLB in Madhusudhan Law College.
From his college days he was active in political sphere and he started his career in Journalism with Eastern Times in the year 1965. Since then, he joined the mainstream media.
Since early 2000 he was independently writing columns for various New Papers and written many books on politics, political personalities, political history of the state
He authored 'Political History of Modern Odisha', Platinum Jubilee of Odisha Politics, which presented an insight to the political strata of the State.
His closeness to political personalities across the political parties have been providing inside inputs for writing these books, which are highly informative.
Basanta babu used to spend long hours in Odisha Legislative Assembly Library and State Library before writing these books.
He was a caring and loving personality with positive vibes and has been always helping the fellow colleagues.
Chief Minister Naveen Patnaik conveyed deepest condolences to the bereaved family and wished peace for departed soul.
PCC President Niranjan Patnaik condoled his sad demise and other political fraternity also condoled his death.