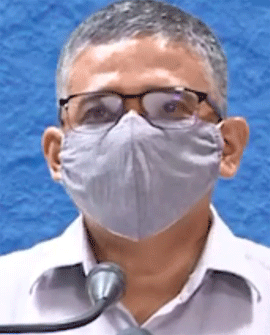 Bhubaneswar: The State Government on Thursday asked concern officers to follow the strategy prepared for vaccination of pregnant women.  
Additional Chief Secretary (ACS), Health & Family Welfare, PK Mohapatra has issued instructions to the Collectors Municipal Commissioners and Chief District Medical & Public Health Officers on this issue.
"Covid-19 infection during pregnancy may result in rapid deterioration of health of pregnant women and might also affect the fetus. Experts believe that the benefits of vaccination outweigh the potential risks from vaccination," Mr.Mohapatra said in his letter to the above Officers.
Based on the recommendations of expert committees and wider stakeholkder's support, the Ministry of Health & Family Welfare have approved vaccination of pregnant women against Covid-19, he said.
The Collectors, MCs and CDM&PHOs have been asked to be prepared and conduct orientation & capacity building programmes of staff, frontline workers and vaccinations, before starting the vaccination of the pregnant women. They have also been directed to engage medical professionals from the private sector for the drive.
The ACS Health & FW also advised to conduct proper counseling of the pregnant women for the vaccination and also monitor adverse events following immunization (AEFI) and their health condition after the vaccination.
The National Technical Advisory Group on Immunization (NTAGI) has approved vaccination of pregnant women against Covid-19 with the condition that the pregnant women may be informed about the risks of exposure to Covid-19 infection along with the risks and benefits associated with the vaccines available in the country.
Based on the information provided, a pregnant woman will have the choice to take the vaccination. A pregnant woman, who opts for vaccination, could be vaccinated at any time of the pregnancy.