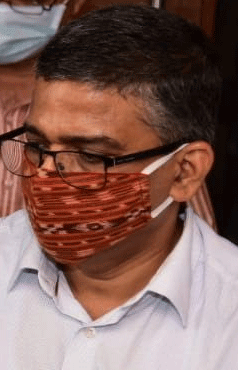 Bhubaneswar: Over 52 Lakh beneficiaries have been benefitted through Vaccination Program as Odisha is on over drive to cover maximum number of eligible people in the process.
ACS Health & Family Welfare Pradipta Kumar Mohapatra reviewed Vaccination Management Program on 20 April, which reveals that as on date Odisha has covered 52,57,387 beneficiaries till date.
Mr.Mohapatra while taking today's performance asked the district officials to organize the vaccine sessions to cover more.
While Odisha is facing dearth of vaccines, and not been able to get the required amount, however with existing availability of resources, State Government continues to cover more and more areas with determination in all the 30 Districts, a senior Health Official said.
Total sessions planned for tomorrow will be 838 out of 1500 sessions set up by the State Government.
So far availability of vaccines are concerned Covishield stock is 3,63,090 and Covaxin availability is 2,03,830.
Total vaccinated till date have crossed 52 lakh out of which 45 years & above taken 1st Dose are 39,89,650 and similar age group having second dose are 3,21,669.
COVID-19 Vaccination Report on 20 April, reveals that there were only 941 sessions of which 62 are Covaxin and 1,04,013 beneficiaries were vaccinated.
Imagine, Odisha planned to vaccinate 3 Lakh per day and due to acute shortage of vaccines hardly one third beneficiaries are covered in a day of the target.
As on 20 April, Health Care Worker (HCW) vaccinated with1st dose are 617, HCW vaccinated with 2nd dose 723 were covered.
Front Line Worker (FLW) vaccinated with1st dose are 1603 and FLW vaccinated with 2nd dose are 838.
Age 45 years & above with1st Dose are 67,040 and Age 45 years & above with 2nd dose are 33,192.
So far Cumulative coverage is concerned HCW with1st dose are 3,21,111 HCW with 2nd dose were 2,69, 077 and FLW with 1st dose 2,00,026, FLW with 2nd dose are 1,55,854.