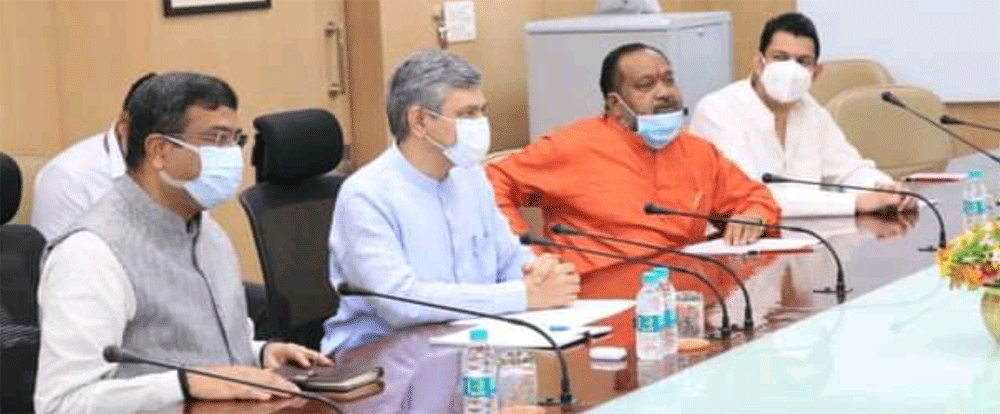 New Delhi: Union Railways Minister Ashwini Vaishnaw Thursday assured said he will work for holistic development railways in Odisha.
The Railways Minister today held discussions over various issues pertaining to the railway project in Odisha with State BJP MPs in New Delhi. Union Minister Dharmendra Pradhan was present in the meeting.
All BJP MPs, Jual Oram, Pratap Sarangi, Aparajita Sarangi, Sonal Mansingh, Sangeeta Singh Deo, Suresh Pujari, Basanta Panda, Nitesh Ganga Deo were present.
This meeting organized at the behest of Mr.Vaishnaw for his maiden visit to Odisha on 16 August. The gathering gave a message that all BJP MPs have joined hands with the new and dynamic Minister, who means business.
"MPs of the Bharatiya Janata Party (BJP) from Odisha met me and discussed several issues pertaining to railways in the State. We all will work collectively to expedite the works on all projects in the State one by one. Our aim is for holistic development of railways in the State," Mr.Vaishnaw said.
The Prime Minister's vision is Purvodaya (development of east India) and Odisha is always given importance by the Centre, he said.
Therefore, all projects will be taken up one by one and there should not be any apprehension, he added.
BJP MP Basant Panda said "We discussed all proposed and pending railway projects in Odisha and requested him to take those forward. The Minister took our requests positively."
Odisha's expectations went high after Mr.Vaishnaw sought the blessings of Lord Jagnnath for the service of Odisha soon after his induction into the Union Cabinet. The new Railways Minister is scheduled to visit Odisha on 16 August.