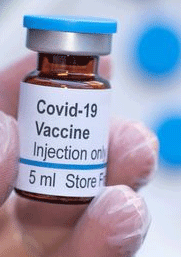 Bhubaneswar : Implementation of Vaccine Administration Program is top priority of the State Government and accordingly all Districts Magistrates have been asked to constitute Block Task Force (BTF) and conduct meeting of BTF by 15 December.
ACS Health & Family Welfare, Pradipta Kumar Mohapatra has directed all the District Magistrates in this regard, said sources.
State Government will be ensuring foolproof arrangements for COVID-19 Vaccination and accordingly BTF will implement Grassroot level Action Plan, officials say.
While COVID-19 Vaccine will be available in early 2021, Odisha Government has chalked out Comprehensive Road Map for Vaccination, thanks to guidance by National Expert Group On Vaccine Administration (NEGVAC).
NEGVAC is chaired by Member Health, NITI Aayog and co-chaired by Union Secretary Health and Family Welfare.
State Steering Committee chaired by Chief Secretary Asit Tripathy outlined the Road Map, State Task Force (STF) chaired by ACS Health & FW made detailed arrangements for rolling out the Strategy, said sources.
District Task Force (DTF) chaired by District Collectors and City Task Force (CTF) headed by Municipal Commissioners have already done the ground work for Vaccination Planning, said sources.
Now BTFs are constituted and these Grassroot Organizations will be conducting meeting by 15 December, so that the system will be in proper place for implementation, officials say.
While Health Care Workers (HCW)s Database is ready with 3,17,692 HCWs enrolled from 3898 Health Care facilities, Mapping of Vaccinators and Session Sites are completed.
State Government has already done assessment of Cold Chain and Vaccination Equipment Requirement and procurement of additional Cold Chain Equipment is under process, said sources.
Government of India will be providing syringes for COVID-19 Vaccination and NEGVAC has been providing guidance on procurement and inventory management.
NEGVAC will provide guidance on prioritization of Population Groups, Vaccine Selection , Delivery and tacking mechanism, so that there will be problem in this regard across the country.
While COVID-19 Vaccination strategy has been formulated, most candidate vaccines follow a to dose schedule and the beneficiary will have to complete vaccination using the same vaccine product.
This is because vaccines are developed using multiple platforms and they are not interchangeable, officials say.
There are eight products that will be available in India- Covishield by Serum Institute,Pune, Covaxin by Bharat Bio Tech,Hydrabad, ZyCoV-D by Cadilla Ahmadabad, Sputnik V by Dr.Reddy's Lab, Hyderabad, NVX-Cov 2323 by Serum Institute, Pune, HGCO 19 by Genova, Pune and two others, sources said.
All of these Indian Manufacturers have collaborated with others for producing the product.
Storage temperature of most vaccines similar to other Universal Immunization Program (UIP) Vaccines and accordingly arrangements are being made, sources said.
Roll out of Vaccine will be done following Election Model and vaccination lay out planning has been done accordingly so that there will be proper physical distancing in this regard, officials say.