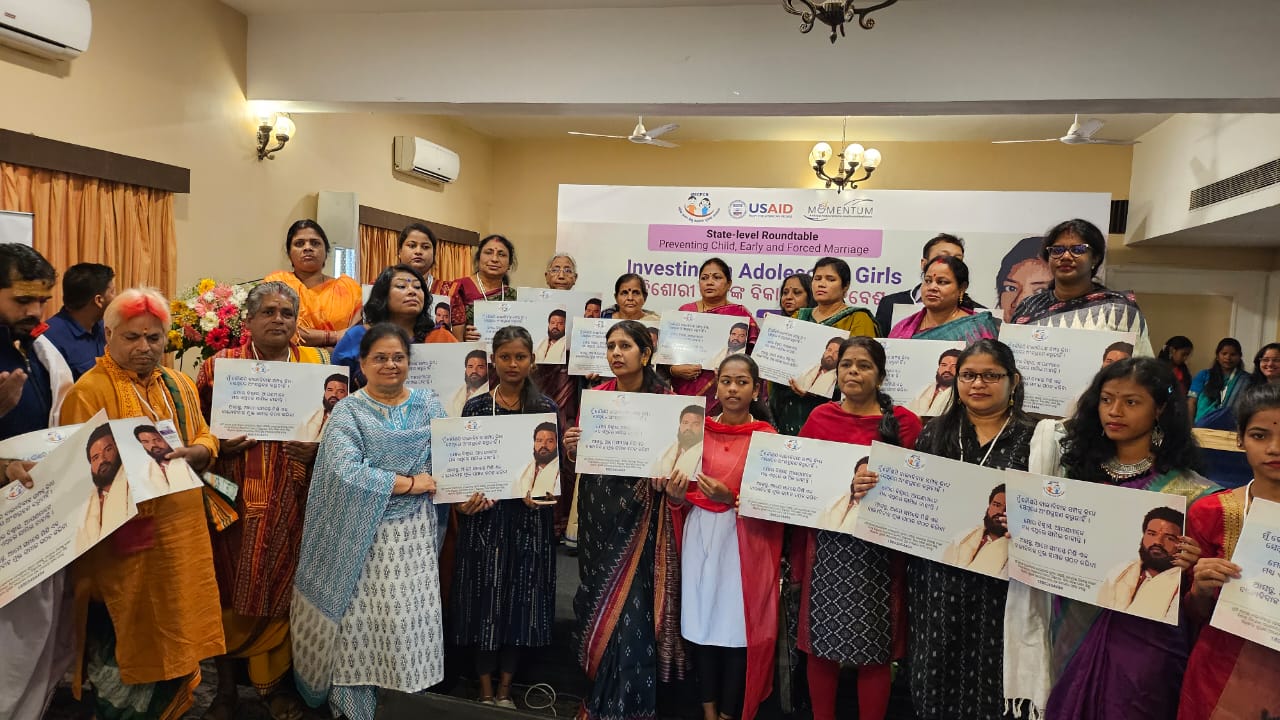 Bhubaneswar: USAID Momentum Country and Global Leadership: India-Yash, and the Centre for Catalyzing Change (C3), organized a state-level roundtable on Preventing Child, Early and Forced marriage at Hotel Swosti Premium, Bhubaneswar on 10 November.
Over 70 participants from all walks of life including Government authorities, Voluntary Organizations, Corporates, Faith-based leaders, Adolescent Champions participated in the program.
It is important to work with various stakeholders who are associated with child marriage and also convergence of line departments is important for eradicating child marriage said the Chief Guest Mandakinee Kar, Chairperson, OSCPCR.
Aparajita Gogoi, Executive Director, C3, Abhilash Jacob Philip, Dy. Chief of Party, USAID, Vandana Stapleton, Dy. Director, Health Office, USAID India (Video), Sumitra Jena, Advisor, W&CD, Q. Sultana, Member Secretary, State Council for State Welfare (SCCW), Kalyani Nayak, Chairperson, Social Welfare Board and Minati Behera, Commissioner, State Commission for Women broadly highlighted ending child marriage requires a community-wide commitment.
A positive ecosystem enables and empowers adolescent girls to pursue education, achieve their dreams and thrive. As part of C3's efforts to eliminate CEFM, are working with faith-based leaders and adolescent champions in Nayagarh and Mayurbhanj.
Through continuous trainings, these faith-based leaders and adolescents have become voices of change in their communities, actively advocating against CEFM.
The roundtable also highlighted their experiences and stories, and shed light on how community mobilization can go a long way in addressing systemic issues like child marriage.
The state-level roundtable provided a platform to highlight the achievements of these initiatives and discuss the strategies employed by C3 to combat Child, Early, and Forced Marriages.
Moreover, the discussion served as a forum to contemplate future strategies to foster collective efforts and ensure that young girls can achieve their full potential in education and careers.
The Panelists in the Roundtable included Sharmila Neogi, Advisor, USAID, Vandana Nair, Lead, Adolescent and Young People, Pritikanta Panda, State Program Manager, OSCPS, Harihar Nayak, Former member, OSCPCR and Umi Daniel, Director, Aide et Action, Bhubaneswar Office.
The event was facilitated by Ashok Kumar Nayak, State Head Odisha and Rudra Prasad Pradhan, State Program Manager USAID Momentum Country & Global Leadership India – Yash gave a vote of thanks to all the participants.