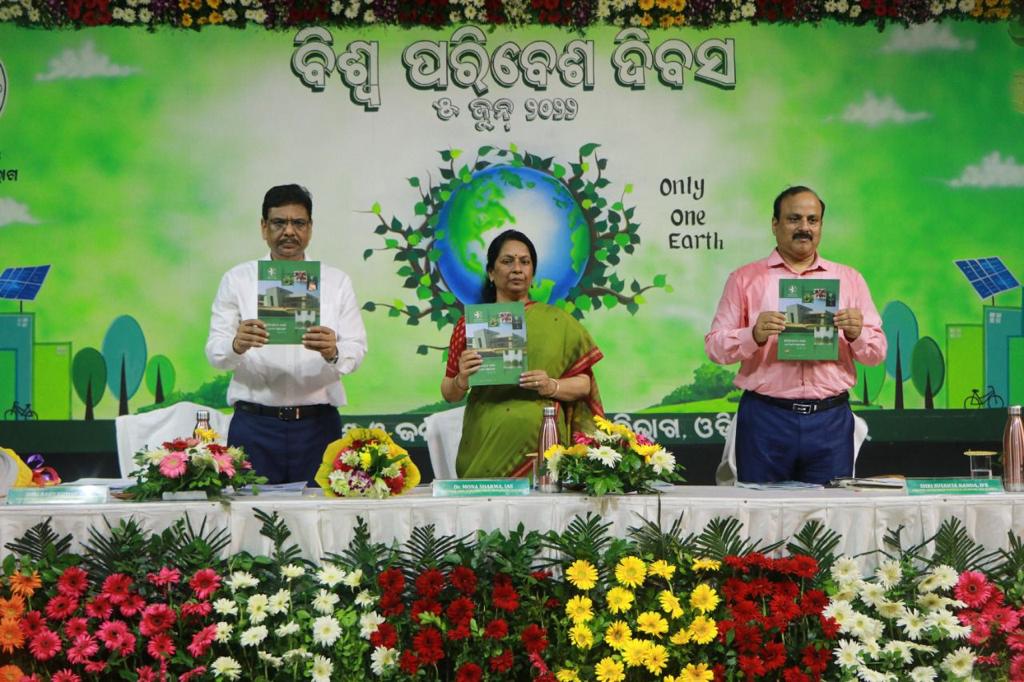 Bhubaneswar:On the occasion of World Environment Day, Dr. Mona Sharma, Additional Chief Secretary to Forest, Environment and Climate Change Department appealed people to support the Government for protection of the environment.
Gracing the State Level function organized to observe the World Environment as Chief Guest, Dr Sharma apprized the audience regarding various steps taken by the Government towards environmental protection in the State.
She expressed that loss of biodiversity, environmental pollution, greenhouse gas emission, rise in global temperature and climatic variations are some of the major causes in deterioration and degradation of the environment.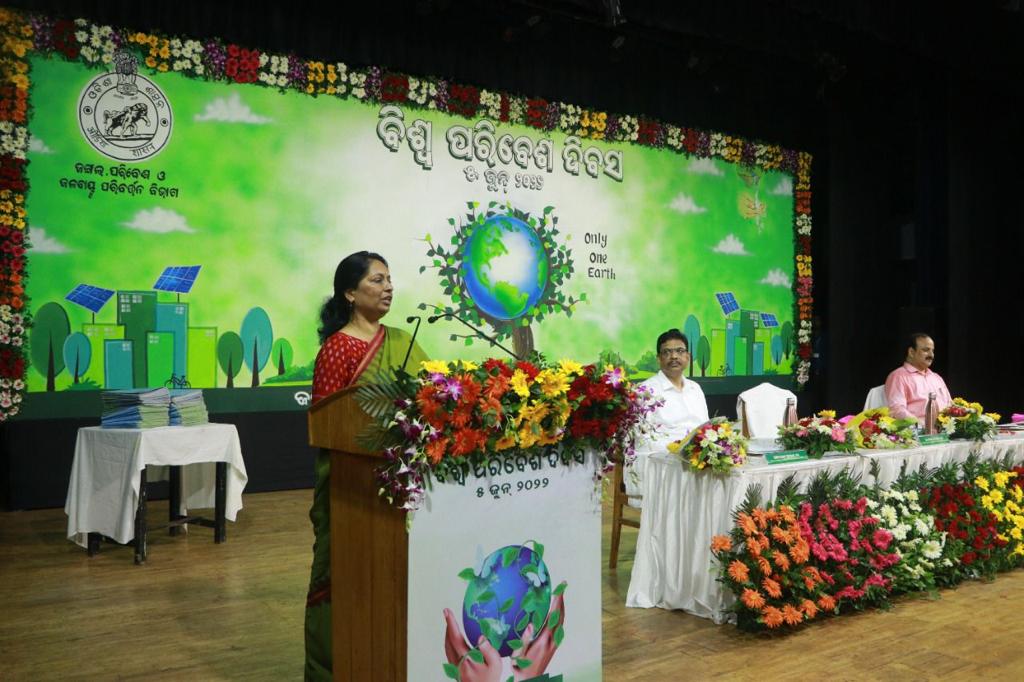 The ACS requested the people of State to support the Government in various environmental friendly activities like use of maximum renewable energy resources, promotion of large scale plantations and protection and conservation of forests.
She awarded Prakruti Mitra Prize to 200 institutions of Odisha for their exemplary work towards environmental protection.
To create awareness on the need for protection of our environment and to educate the general public about their duties and responsibilities towards environmental protection, every year World Environment Day is being celebrated on June 5 globally.
Like every year the world Environment Day has been celebrated this year by the Forest, Environment and Climate Change Department in full spirit at Rabindra Mandap here.
"Only One Earth" was the theme for this year's world Environment Day which means, in the galaxy, earth is the only planet which sustains life and its protection is of utmost significance for human society.
At the outset, Chief Minister Naveen Patnaik congratulated the people of Odisha on the occasion of State level celebration of World Environment Day, 2022.
Mr.Patnaik said for a peaceful, healthy and long life we need to build a long term relationship with our environment and urged the people to love, care and protect the environment at individual level through our actions.
The Chairman, Odisha Biodiversity Board and Director, Center for Environmental Studies, Rajiv Kumar, in his welcome speech explained about the role and responsibilities of every individual in keeping our environment clean and green for a better future.
Mr.Kumar said protection of rivers, streams, oceans, mountains, forest and biodiversity and its conservation is of utmost significance at present time. He also highlighted the need of plastic waste management and their recycling and said changes in our lifestyle may lead to better environmental justice.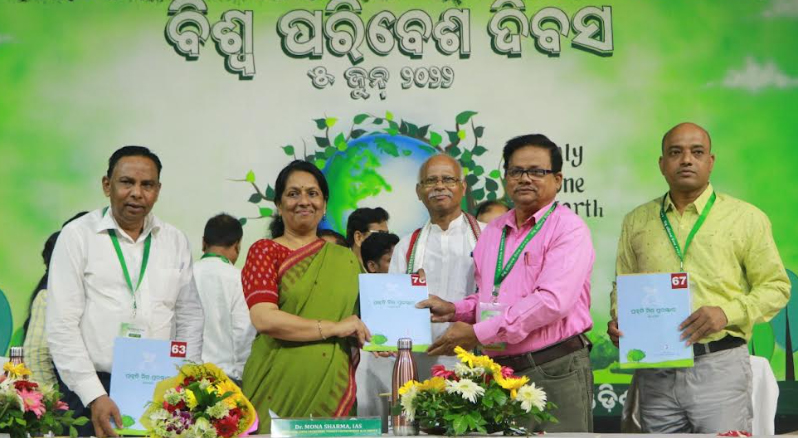 The students of various Eco clubs situated in different districts of the State displayed several models related to this year's theme of World Environmental Day in a befitting manner.
Awareness programmes were also conducted by the Eco clubs through rallies, road shows, theaters and various competitions for this occasion were also depicted in the function.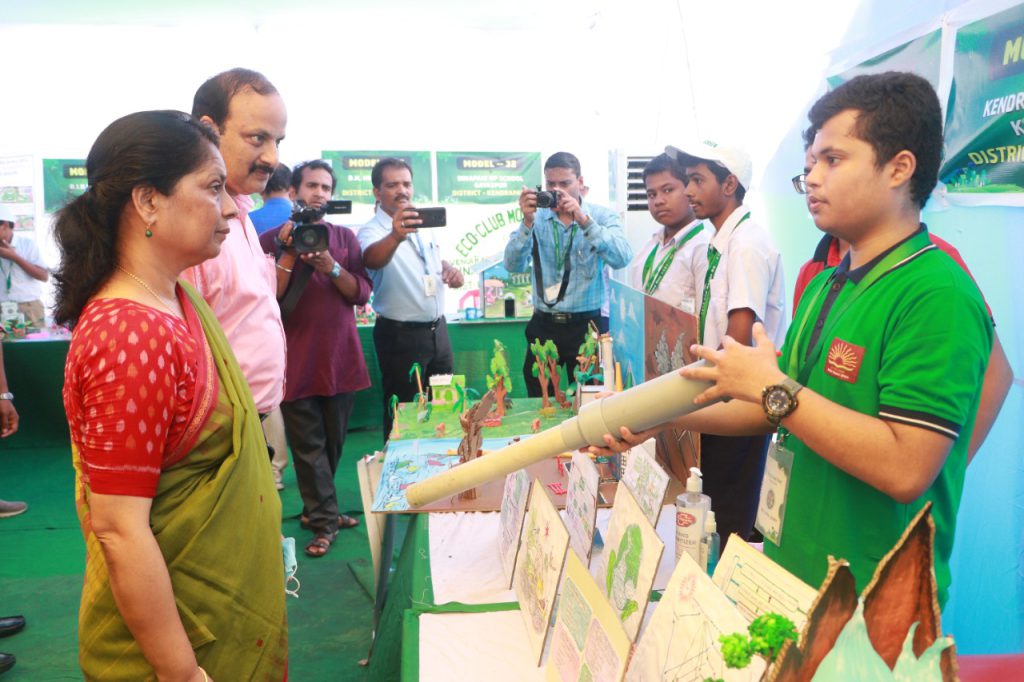 At the end of the event, Director Environment and Special Secretary Susanta Nanda delivered a vote of thanks and praised the significant contributions of teachers and students of Eco clubs in creating awareness towards environmental protection in the entire Odisha.
Mr.Nanda urged to plant few trees and to take care of them at an individual level towards building a healthy future for our new generation.
On this occasion, many books and booklets published by the Centre for Environmental Studies, State Pollution Control Board and Regional Plant Resource Centre and the Annual Activity Report of the Eco Club for the year 2021-22 have been released by the guests.
The guest also awarded the winners of school students those who presented Eco models in this celebration. Essay competitions were conducted by CES on the Plastic Waste Management and their Recycling among the teachers of Eco Clubs and the best 10 teachers were rewarded on this occasion.
Apart from esteemed guests, nature lovers, environmentalist, Awardees of Prakruti Mitra and Prakruti Bandhu, Members of Non-Government Organizations (NGOs), teachers and students of Eco Clubs of Odisha, scientists, academicians and representatives of Print and Electronic media were the other participants in the State-Level celebration.